BIRTHDAYS FOR APRIL 10
Hello people,
We have eight (8) birthdays today.An actress Three (3) singers,three (3) actors and a former American football coach.
Let's start with the actress.
1) Born on Tuesday,April 10,1984 in Los Angeles is an actress.She is known for
Baywatch (1989),Snake & Mongoose (2013) and 7th Heaven (1996).
She is the Playboy Playmate of the Month for July 2011.
https://www.xvideos.com/video47437691/jessa_hinton_nude_playboy
Jessa Hinton
2) Also born on Tuesday,April 10,1984 but in Nashua,New Hampshire,USA is a singer,
singer-songwriter and actress.After coming to fame in 1999 with her debut single 
which peaked at number 6 in the UK and #2 in Australia,she signed with Epic Records.
  From 2009-2015 she was married to Ryan Adams.
https://www.youtube.com/watch?v=NkVsJGl5d6E
3) Born Kenneth Brian Edmonds on Friday,April 10,1959 in Indianapolis,Indiana,USA 
is a singer,songwriter and record producer.He has written and produced over 26 
number-one R&B hits throughout his career and has won 11 Grammy Awards.
   At the 40th Grammy Awards in 1997 one of his albums received four nominations 
including Album of the Year (losing to Bob Dylan's "Time Out Oof Mind),Best R&B 
Album (losing to Erykah Badu's Baduizm) and Best Male Pop Vocal Performance for 
the second single (and biggest hit) (losing to Elton John's "Candle in the Wind").
https://www.youtube.com/watch?v=Ee9SCW91urE
4) Born on Sunday,April 10,1921 in Erick,Oklahoma,U.S.A. (Died:September 16,2003
in Nashville,Tennessee,USA)was a singer and an actor.In 1958 he had a song that
spent six (6) weeks at #1 on US Billboard's primary singles chart.This same song
ranked as #12 for the entire year of 1958 on US Billboard's year-end chart.
https://www.youtube.com/watch?v=X9H_cI_WCnE
5) Also born on Sunday,April 10,1921 but in New York City (Died:November 10,1992
in Los Angeles) was an actor,writer and professional basketball and baseball player.He is one of only 12 athletes in the history of American professional sports to have played both Major League Baseball and in the National Basketball Association.With a 40-year film and television career,he is best known for his five-year role as Lucas McCain in the highly rated ABC series "The Rifleman" (1958???63).
Chuck Connors
6) Born on Thursday,April 10,1952 in Lansing,Michigan,USA is an American actor,
producer,screenwriter,director,martial artist and musician who holds American,
Russian and Serbian citizenship.
In 1988 he made his acting debut in "Above The Law". By 1991,he had starred in
four successful films.In 1992,he played Navy SEALs counter-terrorist expert Casey
Ryback in "Under Siege".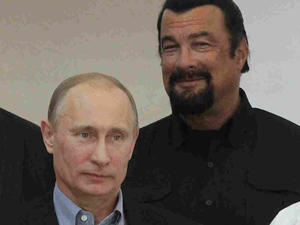 Steven Seagal
7) Born on Sunday,April 10,1932 in Alexandria,Egypt (Died:September 27,2015 in 
Cairo,Egypt)was an actor.His films included "Lawrence Of Arabia" (1962),"Doctor 
Zhivago" (1965), and "Funny Girl" (1968). He was nominated for an Academy Award. 
He won three Golden Globe Awards and a C??sar Award.
https://www.youtube.com/watch?v=IYMSRxRNlu0

Omar Sharif
8) Born on Friday,April 10,1936 in Austin,Minnesota,USA is a former American
football coach and sportscaster.He won a Super Bowl as head coach of the Oakland 
Raiders and after retiring from coaching became a well-known color commentator for
NFL telecasts.In 2006,he was inducted into the Pro Football Hall of Fame in 
recognition of his coaching career.