BIRTHDAYS FOR FEBRUARY 3
Hello people,
we have eight (8) birthdays on this date and an historical event today;four singers,a lawyer,a model and two actresses.
We will start with the historical event.



historical event) On Tuesday,February 3,1959 in a field near Clear lake,Iowa,USA a
charterd plane crashed.The plane was en route to Fargo,North Dakota carrying three
rock & roll legends.Don McLean refers to this tragedy in his 1972 song
"American Pie".The three musicians' music is still remembered to this day.
"The day the music died"
https://www.youtube.com/watch?v=eq9FCBatl3A
https://www.youtube.com/watch?v=jSKJQ18ZoIA
https://www.youtube.com/watch?v=4b-by5e4saI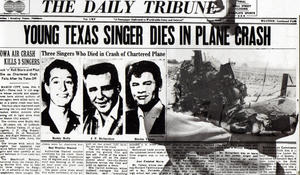 1) Born on Thursday,February 3,1977 in Rio Piedras,Puerto Rico,USA is a singer,
songwriter,actor,rapper and record producer.Accompanied by Justin Bieber he spent 
16 weeks at #1 on the US Billboard Hot 100 in 2017.Only one song in the 80 year 
history of the primary US Billboard single charts has spent more time at #1.
https://www.youtube.com/watch?v=kJQP7kiw5Fk 






2) Born on Saturday,February 3,1990 in Miami is a Jamaican-American singer,
songwriter,rapper and record producer.In 2007 he spent four (4) weeks at #1 on the
US Billboard Hot 100. 
https://www.youtube.com/watch?v=MrTz5xjmso4
3) Born on Wednesday,February 3,1943 in Fairfield,Alabama,USA (Died:February 1,2018
in Chicago)was a soul and R&B singer who was best known 
as the frontman of a very popular Motown group,on Motown Records.He joined the
group in 1968,replacing the lead singer and sang with the group from 1968 to 1976,
1980 to 1984 and 1987 to 1989.The group had four #1 singles on the US Billboard Hot
100 with him singing the lead on three of them.
https://www.youtube.com/watch?v=pJV2pWFyfn4
4) Born on Monday,February 3,1947 in New York City is a singer-songwriter.She 
reached #1 on the US Billboard Hot 100 and the US Cash Box Magazine weekly singles 
chart on Christmas Day in 1971.The song was US Cash Box Magazine's #3 song for the 
entire year of 1972 in their end of year countdown as published in the 
December 30,1972 issue of Cash Box Magazine.
https://www.youtube.com/watch?v=lKcpodt0YCU
5) Born on Friday,February 3,1978 in Beirut,Lebanon is a barrister at Doughty 
Street Chambers,specialising in international law and human rights.Her clients 
include Julian Assange,the founder of WikiLeaks,in his fight against extradition.
She has also represented the former prime minister of Ukraine,"Yulia Tymoshenko" 
and Egyptian-Canadian journalist "Mohamed Fahmy". She is married to the American 
actor "George Clooney".
6) Born on Thursday,February 3,1966 in Athens,Georgia is a model.She drew constantly
when she was a kid. She graduated with honors from Northside High School in Atlanta,
Georgia in 1984.She eventually moved to Sarasota,Florida and studied animation at 
the Ringling School of Art and Design.She worked for a while as a highly paid 
fashion model for Elite;she was featured in ad campaigns for both Guess jeans and 
Cover Girl Cosmetics.She founded the software company Black Dragon Productions in 
1992.She was the Playmate of the Month in the April,1996 issue of "Playboy." She 
went on to appear in several "Playboy" videos.In 1997 she produced,designed and 
starred as the titular character in the erotic adult CD-ROM video game "Riana Rouge.
https://www.xvideos.com/video2702583/playmate_profile_-_gillian_bonner

Gillian Bonner
7) Born on Friday,February 3,1950 in Dallas,Texas.USA is an actress.She achieved 
prominence during the late 1970s and early 1980s with continuing roles in several 
television series,in which she usually conveyed a glamorous image.
  She began her career on the CBS daytime soap opera "Search For Tomorrow" as 
Jennifer Pace from 1973 to 1977.In 1978, she appeared on the primetime soap opera 
"Dallas" as the first actress to portray Jenna Wade,before taking a lead role on 
the NBC series "Flamingo Road" in 1980 (for which she was nominated for a Golden 
Globe Award for Best Actress-Television Series Drama).In 1984,she co-starred on 
ABC's short-lived television drama "Paper Dolls", and then appeared on "Falcon Crest" 
as attorney Jordan Roberts from 1985 to 1986.
8) Born on Tuesday,February 3,1976 in Muscat,Oman is an Australian actress,voice 
actress and author.Born to Scottish parents in Oman,she moved to Australia at age 
six.She came to prominence for her portrayal of Shannon Reed on the soap opera 
"Home And Away" from 1994 to 1997,garnering two Logie Award nominations.
 She made a successful transition to Hollywood in the live-action film adaptation 
of "Scooby-Doo" (2002) and has since achieved fame for her roles in "Wedding 
Crashers" (2005),"Confessions Of A Shopaholic" (2009),"The Great Gatsby" (2013) and
"Now You See Me: (2013).