| | | | |
| --- | --- | --- | --- |
| PLAYBACK.FM (Website) TOP SINGLES FOR 1937 | | | |
Written by Barry Kowal
Oct 11, 2018 at 08:08 PM
PLAYBACK.FM (Website) TOP SINGLES FOR 1937*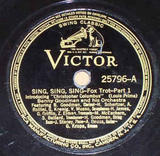 https://playback.fm/year/1937
No. Song-Artist-Peak Month
 1 SING,SING,SING (WITH A SWING)-BENNY GOODMAN-DECEMBER
 2 ONE O'CLOCK JUMP-COUNT BASIE-September
 3 SWEET LEILANI-BING CROSBY-June
 4 THEY CAN'T TAKE THAT AWAY FROM ME-Fred Astaire-June
 5 CARAVAN-DUKE ELLINGTON-August	
 6 MARIE-TOMMY DORSEY-April	
 7 GOODNIGHT,MY LOVE-ELLA FITZGERALD-February	
 8 THAT OLD FEELING-Shep Fields & His Rippling Rhythm Orchestra-October
 9 IT LOOKS LIKE RAIN IN CHERRY BLOSSOM LANE-Guy Lombardo-July		
10 SEPTEMBER IN THE RAIN-Guy Lombardo-June
11 The Dipsy Doodle-Tommy Dorsey-December
12 Whispers In The Dark-Bob Crosby-September
13 Boo Hoo-Guy Lombardo-April
14 The Moon Got in My Eyes-Bing Crosby-October
15 Once In A While-Jack Leonard,Tommy Dorsey & His Orchestra-December
16 It's De-Lovely-Eddy Duchin-January
17 Indian Love Call-Jeanette MacDonald & Nelson Eddy-February	
18 Satan Takes A Holiday-Tommy Dorsey-August
19 This Year's Kisses-Benny Goodman & Margaret Macrae-March
20 Remember Me-Bing Crosby-November
21 Too Marvelous For Words-Bing Crosby & Jimmy Dorsey Orchestra-April
22 This Year's Kisses-Hal Kemp-March
23 Where Or When-Bob Allen & Hal Kemp-August
24 I've Got My Love To Keep Me Warm-Billy Holiday-April
25 Harbor Lights-Frances Langford-October
26 The Merry-Go-Round Broke Down-Russ Morgan-July
27 Hellhound On My Trail-Robert Johnson-July	
28 Carinhoso-Orlando Silva-July	
29 Steel Guitar Stomp-Bob Wills & His Texas Playboys-July	
30 So Rare-Guy Lombardo-September
31 Bob White (Whatcha Gonna Swing Tonight?)-Bing Crosby & Connee Boswell-December	
32 For Dancers Only-Jimmie Lunceford-August	
33 A Sailboat In The Moonlight-Guy Lombardo-August
34 Vieni Vieni-Rudy Vallee & his Connecticut Yankees-November	
35 Rosalie-Tommy Ryan & Sammy Kaye Orchestra-December
36 Thanks For The Memory-Shep Fields & His Rippling Rhythm Orchestra-December
37 Song of India-Tommy Dorsey-April
38 Rockin' Chair-Mildred Bailey-June	
39 The Merry-Go-Round Broke Down-Shep Fields & his Rippling Rhythm Orchestra-July
40 Carelessly-Billie Holiday & Teddy Wilson Orchestra-June  
41 The Lady Is A Tramp-Tommy Dorsey-November
42 Never In A Million Years-Bing Crosby & Jimmy Dorsey-May
43 The Flat Foot Floogie-Slim & Slam-December	
44 (Dear Mr Gable) You Made Me Love You-Judy Garland-December	
45 Harbor Lights-Claude Thornhill-October
46 Once In A While-Frances Langford-December
47 Chao de Estrelas-Silvio Caldas-July	
48 Blue Hawaii-Bing Crosby-May
49 Moonlight & Shadows-Eddy Duchin-March	
50 So Rare-Gus Arnheim & His Orchestra-September
51 With Plenty Of Money And You-Bob Hannon & Henry Busse Orchestra-February
52 You Can't Stop Me From Dreaming-Teddy Wilson Orchestra-November
53 Gone With The Wind-Larry Cotton & Horace Heidt-August
54 Big Apple-Tommy Dorsey-October	
55 I've Got My Love To Keep Me Warm-Howard Phillips & Ray Noble Orchestra-April 
56 Bonaparte's Retreat-W H Stepp-July	
57 Smarty-Fats Waller-August	
58 Let's Call The Whole Thing Off-Fred Astaire-June
59 Periquitinho Verde-Dircinha Batista-July	
60 Azure-Duke Ellington-September	

*This list was compiled with charts from various 
western industrialized  nations (primarily the USA and UK).
Last Updated ( Aug 03, 2021 at 06:29 PM )