| | | | |
| --- | --- | --- | --- |
| PLAYBACK.FM (Website) TOP SINGLES FOR 1921 | | | |
Written by Barry Kowal
Aug 28, 2017 at 12:01 PM
PLAYBACK.FM (Website) TOP SINGLES FOR 1921*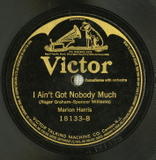 https://www.youtube.com/watch?v=nM4vW7BBYWw
https://playback.fm/year/1921
No. Song-Artist-Peak Month
 1 I AIN'T GOT NOBODY-MARION HARRIS-JUNE
 2 MAKE BELIEVE-NORA BAYES-July
 3 AIN'T WE GOT FUN?-VAN & SCHENCK-September
 4 MARGIE-EDDIE CANTOR-March
 5 SONG OF INDIA-PAUL WHITEMAN-October
 6 LOOK FOR THE SILVER LINING-MARION HARRIS-May
 7 SAY IT WITH MUSIC-PAUL WHITEMAN-December
 8 ALL BY MYSELF-Ted Lewis-November
 9 O-H-I-O (O-My-O!)-Al Jolson-April	
10 AVALON-Al Jolson-January
11 Cherie-Paul Whiteman-August
12 Wabash Blues-Isham Jones-December
13 My Mammy-Paul Whiteman-June
14(Down By The) O-H-I-O-Billy Jones & Billy Murray-March 
15 There'll Be Some Changes Made-Ethel Waters-January
16 I'm A Jazz Vampire-Marion Harris-January
17 My Man (Mon Homme)-Aileen Stanley-August
18 My Man (Mon Homme)-Paul Whiteman-August
19 Bright Eyes-Paul Whiteman-May
20 My Mammy-Aileen Stanley-June
21 Esta Nega Que Me Da-Bahiano-July
22 Arise O Sun-Richard Crooks-July	
23 Second Hand Rose-Ted Lewis & His Band-December
24 Cross Of Gold-William Jennings Bryan-July
25 Caresses-Paul Whiteman-April
26 Mimi-Paul Biese Trio & Frank Crumit-November
27 Symphony In E Flat Major (Finale)-Arturo Toscanini & La Scala Orchestra-May
28 When Buddha Smiles-Paul Whiteman-December
29 Home Again Blues-Original Dixieland Jazz Band-April
30 April Showers-Paul Whiteman-December	
31 Make Believe-Paul Whiteman-May
32 Deep In Your Eyes-Prince's Orchestra-October
33 Night May Have It's Sadness-Patrick Waddington-July	
34 Paixao De Artista-Orquestra De Eduardo Souto-July	
35 I'm Just Wild About Harry-Vincent Lopez & His Orchestra-January
36 Canadian Capers-Paul Biese Trio-December
37 I'm Nobody's Baby-Marion Harris-November
38 Learn To Smile-Paul Whiteman-October
39 St.Louis Blues-Original Dixieland Jazz Band-September
40 (Lena From) Palesteena-Original Dixieland Jazz Band-January
41 Sweet Lady-Frank Crumit-January
42 Feather Your Nest-Henry Burr & Albert Campbell-January
43 Darling-Art Hickman & His Orchestra-April
44 Tuck Me To Sleep (In My Old "Tucky Home")-Ernest Hare-November
45 Mimosa-Leopoldo Froes-January	
46 Ours Is A Nice 'Ouse Ours Is-Alfred Lester	
47 Gypsy Blues-Paul Whiteman-April
48 Bimini Bay-Benson Orchestra Of Chicago-February
49 Canadian Capers-Paul Whiteman-December
50 Do You Ever Think Of Me?-Paul Whiteman-May

*This list was compiled with charts from various 
western industrialized  nations (primarily the USA and UK).
Last Updated ( Aug 03, 2021 at 06:14 PM )