| | | | |
| --- | --- | --- | --- |
| PLAYBACK.FM (Website) TOP SINGLES FOR 1912 | | | |
Written by Barry Kowal
May 08, 2017 at 02:41 PM
PLAYBACK.FM (Website) TOP SINGLES FOR 1912*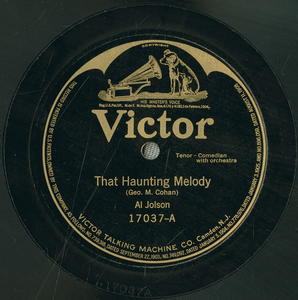 https://playback.fm/year/1912
No. Song-Artist-Peak Month
  1 THAT HAUNTING MELODY-AL JOLSON-MAY
  2 MOONLIGHT BAY-AMERICAN QUARTET-April
  3 RAGGING THE BABY TO SLEEP-AL JOLSON-July
  4 LOVE IS MINE-ENRICO CARUSO-July
  5 COME DOWN,MA EV'NING STAR-LILLIAN RUSSELL-July
  6 GONZAGA O FORROBODO-GRUPO CHIQUINHA-July
  7 I'M TWENTY-ONE TODAY-(UNKNOWN)-July	
  8 I LOVE YOU TRULY-Elsie Baker-October
  9 TILL THE SANDS OF THE DESERT GROW COLD-Alan Turner-December
 10 BE MY LITTLE BABY BUMBLE BEE-Ada Jones & Billy Murray-December
 11 Waiting For The Robert E. Lee-Heidelberg Quintet-November
 12 When I Was Twenty-One And You Were Sweet Sixteen-Henry Burr & Albert Campbell-June
 13 Everybody Two-Step-American Quartet-December
 14 Ragtime Cowboy Joe-Bob Roberts-September
 15 I Love The Name Of Mary-Chauncy Olcott-January
 16 Canta Pe' Me (Neapolitan Song)-Enrico Caruso-March
 17 The Maids of Cadiz (Les Filles De Cadiz)-Lucy Isabelle Marsh-July
 18 Who Were You With Last Night?-Mark Sheridan-July
 19 Amor Ingrato-Neco-July
 20 Dreams Of Long Ago-Enrico Caruso-August
 21 Everybody's Doing It Now-Arthur Collins & Byron Harlan-March
 22 When Uncle Joe Plays A Rag On His Banjo-Arthur Collins-September
 23 Gems From "Naughty Marietta"-Victor Light Opera Co.-March
 24 Ao Luar-Joao Barros-July
 25 Look What Percy's Picked Up In The Park-Vesta Victoria-July	
 26 O Meu Ideal-Joao Barros-July
 27 A Stein Song-Reed Miller-August
 28 Oh! You Circus Day-Arthur Collins & Byron Harlan-October
 29 Alexander's Ragtime Band-Prince's Orchestra-April
 30 Any Place The Olf Flag Flies-Billy Murray-March
 31 The Lost Chord-Enrico Caruso-August
 32 Take Me Back To The Garden Of Love-Charles Harrison & Columbia Stellar Quartet-June
 33 Kentucky Days-Peerless Quartet-December
 34 Moonlight Bay Medley-Dolly Connolly-December
 35 The Harbor Of Love-Frank Coombs & William H.Thompson-February 
 36 Please Don't Take My Lovin' Man Away-Elsie Baker-August
 37 The Gaby Glide-Billy Murray-July
 38 I'm Afraid,Pretty Maid,I'm Afraid-Ada Jones-July
 39 Waiting For The Robert E.Lee-Arthur Collins & Byron Harlan-December
 40 When I Was Twenty-One And You Were Sweet Sixteen-American Quartet & Harry MacDonough-June

*This list was compiled with charts from various 
western industrialized  nations (primarily the USA and UK).

Last Updated ( Aug 03, 2021 at 06:03 PM )