YEAR END REVIEW 2018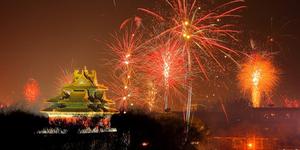 Hello Everyone!!!!
This is one of those group e-mails that are shot out at the last minute to wish
everyone a MERRY CHRISTMAS or whatever you celebrate (or If you celebrate anything
at all) and a HAPPY NEW 2018!!! Sort of just realised that Christmas is Tuesday!
For those of you who are new to my mailing list I do this year-end review every
year.I have been doing this for every year since 2004.These reviews are fairly
lengthy so I reckon most of you probably don't even read it.
Those of you who do,thank you. The review is available all year round on my
website at: http://hitsofalldecades.com/chart_hits/
This year like last year and the year before I have images that shaped 2018.Each
one of these images will be addressed in my year-end review.
Now I will begin the year-end review. Every year I start with the news and first
discuss issues related to the USA and then I will discuss issues regarding other
parts of the world. Some issues are intertwined as they involve more than one
country.Then I do the obituaries,then sports,then entertainment and the closing.
The topics look at several events of the past year.So hold your breath now and
let's begin by looking at what has transpired in this world that we live in over
the past 365 days.
 

REAL NEWS-NOT CNN

 

INTRODUCTION

 

  The News I display here is not CNN,MSNBC or FOX News.It is real news.I will 
post things you will not read or hear in the mainstream media.


  If you happen to visit my website 
at:http://hitsofalldecades.com/chart_hits/index.php?option=com_content&task=
category&sectionid=9&id=26&Itemid=42
you will find my Top 6000 of all-time.The artist who makes the most entries on the
 Top 6000 is Paul McCartney (with the Beatles,with Wings,duets,trios and solo).
Paul McCartney is now 76 years old.Just when you thought he was a relic,this year 
on September 22 Paul McCartney reached #1 on the US Billboard 
200 album chart with the album titled "Egypt Station".The last time he had a #1 
album on the US Billboard 200 was 36 years ago in 1982 with his album
"Tug Of War".So while you read my review of 2018 it may be appropriate to kick 
back and in the background listen to music from Paul McCartney from his 
2003 concert at Red Square in Moscow.

https://www.youtube.com/watch?v=7B6vgeNfD0w
Now I will start the 2018 Review by continuing with a story I started with in my 2017 Year-End Review "THE RISE AND FALL OF THE AMERICAN EMPIRE".
See:http://hitsofalldecades.com/chart_hits/index.php?option=com_content&task=view&id=4174&Itemid=58
THE FALL OF THE AMERICAN EMPIRE CONTINUED 

   To understand this article better you should first read my article in my 2017
Year-End Review titled "THE RISE AND FALL OF THE AMERICAN EMPIRE" at:
http://hitsofalldecades.com/chart_hits/index.php?option=com_content&task=view&id=4174&Itemid=58.
That will bring you up to 2018. 

 I use the term "empire" solely for lack of a better word. A more 

appropriate word to describe American dominance would be "hegemony". 

But I'll use "empire" as a pejorative term for the sake of continuity 

and simplicity. As I said before when empires fall you don't just
wake up one day and the empire is gone.It usually takes decades for 

empires to fall. Further,when empires do fall they do not suddenly become third world
countries. Although the British Empire has fallen,the UK is still a major
player on the world stage.This year you have seen the first signs of a falling
American empire. Here are several signs:
 

1-CHINA TELLS AMERICANS TO GET THEIR RONALD McDONALD ASSES OUT OF THE SOUTH CHINA SEA.

  

 

America 

although it spends more on defense than the next 10 countries combined that doesn't mean shit to China. 


   On Tuesday,October 9,2018 Beijing sent a 

warship,fighter jets and a 

helicopter to chase off a US Navy destroyer after it 

sailed past disputed 

islands in the South China Sea.




   Chinese military chiefs said the USS Chafee 

had infringed on the 

country's sovereignty and security with its 

'provocation'

as it neared the 

Paracel Islands. 

   America's operation was an attempt to 

counter what Washington sees as Beijing's efforts to 

limit freedom of


navigation in the strategic waters.


  China,angered by the mission, responded


immediately on that day by dispatching its own navy and air force to warn 

the


US ship to leave.


  A Chinese foreign ministry spokeswoman said:
'The US vessel action violated Chinese laws and relevant international


laws,undermined China's sovereignty and security interests.


 and China is firmly opposed to that and has
lodged stern representations with the US,'the Chinese foreign minister


added,using the term for official diplomatic protests.


China's
defense ministry warned it would now further strengthen its naval and air


defenses.




  See:

 

https://www.dailymail.co.uk/news/article-4969452/China-protests-US-sail-disputed-waters.html




 


  A similar incident with similar results


between the USA and China in the South China Sea occurred in January 

of 2018.I 

guess the USA should stick to bullying small countries like 

Iran,Afghanistan 

and Vietnam.

2-EU BYPASSES US SANCTIONS ON IRAN

 

 In May of this year Donald Trump withdrew the USA from the Iran Nuclear Deal 
(Joint Comprehensive Plan of Action).An agreement that was entered into by the 
USA along with Iran,the EU,China,France,Germany and the UK.Although other than the 
USA the other members agreed that Iran had been complying to the agreement. Almost 
immediately after the USA withdrew from the agreement they imposed sanctions on 
Iran.They also threatened to impose sanctions on anyone who traded with Iran.
Donald Trump sounds a lot like Tony Soprano.The other members to the agreement,to
continue trading with Iran planned to circumvent US sanctions.America's biggest 
bite is not it's military but its control of the swift system.If Europeans and 
others can circumvent this,it gives less teeth to America's bite.
  Official EU effort to maintain financial access to Iran would also create a 
transatlantic rift even after Washington warned European companies to comply 
with its reimposed countermeasures or be shut out of the US financial system.
But the EU has defied the USA and continues trade with Iran.Showing the EU is 
now starting to stand up to the USA.More recently in November French President 
Emmanuel Macron and German Chancellor Angela Merkel were talking about building a 
European army.
See: https://www.ft.com/content/04ef404e-b826-11e8-b3ef-799c8613f4a1
  

3-THE US IS STARTING A TRADE WAR WITH CHINA AND IT LOOKS LIKE THE USA WILL LOSE

 
 

  Many people have watched the rise of the Chinese economy to witness its rise from
 a back water nation to becoming the second biggest world economy.
  Peter Navarro an American economist who currently serves as an Assistant to 
President Trump and is Director of Trade and Industrial Policy,Director of the 
White House National Trade Council, a newly created entity in the executive 
branch of the U.S. federal government, which was then folded into the Office of 
Trade and Manufacturing Policy, a new role established by executive order on 
April 29,2017.He has directed the 
Movie "Death By China".
  He believes it is inevitable that China will take over the USA as the world's 
superpower.He is the creator of the current US-China trade war.It is alleged he 
told Trump to start a trade war with China because if you wait ten years the train 
will have already left the station.
  So,on January 22,2018 Trump started the trade war with China by imposing tariffs 
on solar panels. Since that time the USA has imposed tariffs on other goods and 
have even increased the prices of the tariffs.Each time China has retaliated in 
equilibrium on US products.America's arm twisting tactics are futile.China will 
not succumb to US pressure. 
  At the APEC summit in November US Vice-President Mike Pense claimed he now sees 
China as an adversary. That left the group of 21 nations in disarray,unable to 
agree on even a routine joint statement like those that had closed every other 
Asia Pacific Economic Cooperation summit since 1989.
See: https://www.nytimes.com/2018/11/18/world/asia/apec-us-china-trade-war-joint-statement.html
 

  The US will lose this war due to two factors.
China has rare Earth Elements that US needs to keep their war machine grinding. 
Among the thousands of Chinese products targeted by the US administration in its 
salvo of tariffs are some rare earth metals, little known chemical elements that 
are vital to products ranging from hi-tech lasers to wind turbines to lightweight 
frames for mountain bikes.
  Not exactly household names, yttrium and scandium will be subject to 10 per cent 
levies as part of the US$200 billion worth of Chinese products facing tariffs under 
US President Donald Trump's latest shot in the trade war between the two nations.
See: https://www.scmp.com/business/commodities/article/2155101/us-shooting-itself-

foot-tariffs-chinese-rare-earth-elements


 Don't forget China owns most of the US debt. The U.S. debt to China is $1.15 
trillion as of September 2018. That's 18 percent of the $6.2 trillion in Treasury 
bills, notes, and bonds held by foreign countries. The rest of the $21 trillion 
national debt is owned by either the American people or by the U.S. government
itself.If China makes a demand it could put the US up shit's creek without a 
paddle. See: https://www.thebalance.com/u-s-debt-to-china-how-much-does-it-own-3306355
  So the USA this year has started a trade war that they will lose.They are 
hastening the decline of the American Empire.
 

4-US IMPOSES SANCTIONS ON CHINA AND INDIA FOR PURCHASING RUSSIAN WEAPONS

 

The fact that the US is imposing sanctions on China and India for buying Russian 
weapons is clearly a sign of desperation. America is losing their grip on world 
power,so they try to force and coerce other nations to conduct business with them.
They also threatened Germany with sanctions should they conduct the "Nord Stream 
Pipeline" with Russia.They have even been threatening sanctions on any country 
that assists Syria in rehabilitating their infrastructure from the war.   
On September 20,2018 the US imposed punitive measures against China's military 
under the 2017 Countering America's Adversaries Through Sanctions Act (CAATSA), 
in retaliation for its purchases of Russian military equipment. The move is meant 
to punish" Moscow for what American officials call "malign activities." The 
State Department slapped sanctions on China's Equipment Development Department 
(EDD) for having purchased the S-400 air-defense system and Su-35 combat planes. 
This is the first time anyone has been sanctioned for doing business with Russia 
in violation of CAATSA.
The announcement came a few days after Chinese troops participated in Russia's 
largest war games since 1981,which demonstrated that Russia and China are now 
working more closely with each other. The announcement of sanctions seriously 
angered Chinese authorities,who threatened to respond in kind. And they will.
Washington's move changes little in regard to its relationship with Beijing,as it 
had already launched a war of tariffs against it. This is all at a time when the
 tensions in regard to the disputes in the South China Sea over islands and 
maritime claims are running high.
The sanctions war is pouring even more fuel on the fire. It raises the prospect of 
the US sanctioning its friends and allies who purchase Russian military equipment. 
The penalties imposed on Sept. 20 are a warning shot intended for other states on
the list of clients, including India, Egypt, Turkey, Saudi Arabia, Morocco, 
Algeria, the United Arab Emirates, Qatar, and the Philippines, among other nations 
that are willing to sign contracts. India, the largest buyer of Russian-made 
weapons, and Turkey, a US NATO ally, have already been admonished against doing 
business with Russian arms exporters. Russian President Vladimir Putin is going to 
visit Saudi Arabia soon. The planned signing of an S-400 deal would deal a major 
blow to the United States. Washington hopes that now that sanctions have been 
imposed on Beijing, Riyadh will change its mind.
Obviously, the sanctions are intended to "poison" Russia's entire economy, 
in order to scare off existing and potential partners . The hope is that they'll 
be hesitant to make any deals because "with Russia,you never know."
It;s important to get rid of one's rival. Russia is the second-largest arms 
exporter in the world, with a 23% share of the global arms market. By comparison, 
the US controls 33% , then there is China with only 6.2% and France with 6%. 

Last year Russia exported $15 billion worth of weapons to customers in 53 

countries. Arms sales are a lucrative business and it's crucially important for 

Washington to hold on to its leadership in that area, in the face of challenges.

 Any move can be rationalized if it will weaken the positions of one's biggest

competitor. Added to that is the fact that Russia's defense programs are much more

 efficient than those of the United States.
Some countries, such as China, India and Iran, are standing up to this pressure, 

but other potential buyers of Russian equipment might back down. So far, the 

policy has seen widespread resistance, triggering a pushback against the US

use of its enormous financial power. Even the Philippines is vowing not to change 

its plans to buy Russian weapons.

See: https://www.hindustantimes.com/india-news/us-punishes-china-

for-buying-russian-arms-should-india-worry/story-vMzati4cUX2jRbFQ1a2IJN.html
  In a book written by the Chinese (The Hundred-Year Marathon-China's Secret 

Strategy to Replace America as the Global Superpower Paperback:March 15,2016) 

they are claiming that they will overtake the USA without firing a shot.Countries 

are going to get tired of being threatened and coerced by the USA and they will 

just run to China. 


5-VENEZUELA NOT USING US DOLLAR
 
In October Venezuela abandoned using the US dollar,with all future transactions
on the Venezuelan exchange market to be made in euro,announced by Tareck El
Aissami,the country's Vice President for Economy.
The sanctions that were recently introduced by Washington against Caracas,
"block the possibility of continuing to trade using the US dollar on the
Venezuelan exchange market," El Aissami said, adding that the American restrictions
were "illegal and against international law."
The American "financial blockade" of Venezuela affects both the country's public
and private sectors,including pharmacy and agriculture, and shows "just how far
the imperialism can go in its madness," the vice president said.
Venezuela's floating exchange rate system, Dicom, "will be operating in euro,
yuan or any other convertible currency and will allow the foreign exchange market
to use any other convertible currency," El Aissami said.
The vice president added that all private banks in Venezuela are obliged to
participate in the Dicom bidding system.
America's dominance of the international financial systems is stronger than
it's Military might.But now like Venezuela many countries are creating or using other financial systems to circumvent being blockaded by the USA.
See: https://www.rt.com/news/441448-venezuela-drops-dollar-currency/
6-CHINA AND RUSSIA OVERTAKE THE USA AS HAVING MORE INTERNATIONAL INFLUENCE
In a 2018 US News poll see China and Russia as more prominent international players than Henry Kissinger wrote in 1979,the problem with superpowers is that they often act like "two heavily armed blind men feeling their way around a room, believing himself in mortal peril from the other,whom he assumes to have perfect vision." This principle from the realpolitik statesman, that the world's most powerful nations are often oblivious to their opponents' deep dysfunctions, may explain data compiled by U.S. News as a part of its 2018 Best Countries ranking, breaking down how respondents from particular nations view the world.
Though the U.S. ranks first among the world's most powerful nations according
to a majority of all respondents,Americans themselves do not consider their
homeland to be the most prominent international player. Rather, they see China as
most powerful, followed by Russia and then the U.S.
Undervaluing the strength of one's homeland isn't limited to America. Respondents
in China consider Russia to be the most powerful, followed by the U.S..
Indeed, none of the countries home to enough respondents to make their
responses statistically significant considers their native land to be the world's
most powerful. India and Turkey also considered Russia the most powerful:a
particularly surprising result for Turkey, a NATO ally of the U.S.
Canada and the United Kingdom (also close U.S. allies) are the only nations
of the six assessed that rank the U.S. as the most powerful nation. Canadians
ranked Germany as the second-most powerful nation while the British, embroiled in
diplomatic row over a Russian former spy poisoned in the U.K., ranked Russia as
No. 2.There were not enough respondents to the U.S. News survey in Russia to make the results statistically accurate.
The Power sub-ranking of U.S. News' Best Countries report is based on responses
from more than 21,000 people in four world regions and 80 countries, and equally
weighted average scores for five attributes: the extent to which a country is a
leader, is economically influential and politically influential and has strong
international alliances and military alliances.
See:https://www.usnews.com/news/best-countries/articles/2018-05-01/data-americans-consider-china-russia-more-powerful-than-us
In January Russia began backing peace talks and agreeing on a new constitution
for Syria.Showing the world that no longer is the USA the big peace negotiator it
once was.

Sse:https://www.theguardian.com/world/2018/jan/31/russia-backed-syrian-peace-talks-deal-constitution-un the USA.
 7-THE USA BUILDS WALLS WHILE CHINA BUILDS BRIDGES
 


On January 

20,2018 The US government was in shutdown that weekend because Donald 


Trump wanted 

a wall to be built along the USA/Mexican border.While this was going on 


China is 

making business deals with Latin American countries.China had just signed 


an 

agreement to expand their "Belt And Road Initiative" to now go across


the Pacific 

Ocean and 

include Latin America and the Caribbean. In most Latin American countries 


China is 

now their biggest trading partner.The USA wants to build a wall and initially


wanted to 

have a Latin American country pay for it.While China will build bridges and
roads in Latin American countries and China will pay for it.


  Further,since the economy has improved in 

many Latin American countries,less Mexicans 


are 

migrating to the USA.Also Mexicans don't like getting harassed by the police in


the 

USA.Perhaps 

the USA is building a wall not to keep Latin Americanos out but to 


keep 

Americans in.


    In another development the U.S. Navy 

destroyer USS Hopper sailed within 12 


nautical 

miles of the Scarborough Shoal in the South China Sea on January 17,the 


Washington 

Post reported Jan. 22. It was the first U.S. freedom of navigation 


operation 

in 2018. The Chinese Ministry of Foreign Affairs responded by saying the 


U.S. vessel 

violated China's sovereignty and security interests and ordered the 


vessel to 

withdraw. Beijing issued a warning in People's Daily (Chinese newspaper),
stating that the more ships the United States sends to the South China Sea, the
more China will bolster its presence there.


    Basically China was saying,we are not 

Iraq,Syria or North Korea.You fuck with 

us you'll get a foot up your Ronald 

McDonald's ass.


Go 

see:https://worldview.stratfor.com/situation-report/china-us-navy-vessel-sailed-south-china-sea


   In my 2017 Year End Review I predicted that 

by 2050 China would over take the 

USA as the world's #1 super power and there
are others that are predicting China to be #1 by 2030.It may be sooner.
See:http://hitsofalldecades.com/chart_hits/index.php?option=com_content&task=view&id=4174&Itemid=58


      The 

Hong Kong-Zhuhai-Macau Bridge (HZMB),is a 55-kilometre (34 mi) bridge-tunnel
system consisting of a series of three cable-stayed bridges, an undersea
tunnel, and four artificial islands. It is both the longest sea crossing and
the longest fixed link on earth. The HZMB spans the Lingding and Jiuzhou
channels,connecting Hong Kong,Macau and Zhuhai,three major cities on the Pearl
River Delta.


   The HZMB was designed to last for 120 years 

and built with a cost of 126.9 billion 

yuan (US$ 18.77 billion).The cost of constructing
the Main Bridge was estimated at 51.1 billion yuan (US$ 7.56 billion) funded by
bank loans and shared among the governments of mainland China,Hong Kong and
Macau.


    Originally set to be opened to traffic in 

late 2016,the structure was completed 

on February 6,2018 and journalists were
subsequently given rides over the bridge.On October 24,2018,the HZMB was opened


to the public after its inauguration

 

a day 

earlier by Xi Jinping,General 

Secretary of the Communist Party of China and


President of the People's Republic of China.

 


    Once 

again raising the specter of a government shutdown on September 20,2018,
President Donald Trump complained that a spending plan pushed by congressional
Republicans is "ridiculous" because it does not include funding for a border
wall with Mexico.
   Trump then tweeted that he wants to know
"where is the money for Border Security and the WALL in this ridiculous
Spending Bill." He added that "REPUBLICANS MUST FINALLY GET TOUGH" against
Democrats he said are obstructing law enforcement and border security.


   Trump's outburst could have complicated GOP 

efforts to avert a partial government 

shutdown at the end of September and
delay a potentially messy fight over border funding until after the midterm
elections in November.


    The Senate then approved a bill that funds 

the military and some civilian 

agencies for the next year and provides a
short-term fix to keep the government open through December 7.


   The stopgap bill would not address Trump's 

long-promised wall along the U.S.-Mexico border, 

although separate spending
bills being considered in the House and Senate provide funding for the wall.GOP
leaders have said they prefer to resolve the issue after the November 6
elections.


see:https://federalnewsnetwork.com/budget/2018/09/trump-blasts-gop-spending-plan-

that-lacks-money-for-wall/   
   America keep building your walls and China


will keep building bridges.


 SUMMARY ON FALL OF THE US EMPIRE 

China 

invented gunpowder.China created paper money.

Dealing 

with China is 

not like making some Manhattan real estate deal.

China has a 

5000 year history.

When I look at China and the USA I think 

about a 4 

year old boy grabbing 

his father's gun saying "Now I'm in charge".

 
The USA is now desperate,like a cornered sociopath.With imposing sanctions and tariffs the
US is trying to re-establish itself as the #1 Superpower.When empires collapse
one of three things will happen.
     1)accept it 
     2)negotiate
     3)war
 
  #1 due to the the fact that the American government is so arrogant and hubris I can not imagine them accepting the fact


that they are not the worlds one and only superpower.#2 I can not see the USA




negotiating. To them negotiating is considered a sign of weakness. Their idea




of negotiations is "it is my way or the highway".The people running




the US government lack empathy and have little feelings of guilt.Further with




all the threats and coercion the US disseminates I believe it will have an




adverse affect.This creates animosity and less countries rather than more will




be submitting to America's demands. Therefore,in my opinion I see #3 as the




inevitable option.When this will happen I can not say but I believe it will




happen.Remember,World War I was started because the British Empire perceived




Germany as a threat.




   Stephen Frand Cohen is an American scholar




and professor emeritus of Russian studies at Princeton University and New York




University. His academic work concentrates on modern Russian history since the




Bolshevik Revolution and the country's relationship with the United States.




  In his new 2018 book "War With 

Russia" he also believes war is highly likely.




See:http://www.simonandschuster.com/books/War-with-Russia/Stephen-F-Cohen/9781510745810




 




 

TO BE CONTINUED...




ARTIFICIAL INTELLIGENCE (AI) 

 

I consider myself an agnostic/atheist.Depends 

upon who you ask.The traditional 

distinction between an agnostic and an atheist 

is that both do not accept any religion 

while 

an atheist denies the existence of god and an agnostic doubts the
existence of god.In that case I am an agnostic.However,there are those who define
atheism more expansively by including in their definition those who believe at
present the existence of god has yet to be established.By that definition I am


an atheist.




   With the rise of Artificial Intelligence (AI) my beliefs 

have been reinforced.

 

The history of Artificial 

Intelligence began in antiquity,with myths,stories and 

rumors of artificial 

beings endowed with intelligence or consciousness by master 

craftsmen;as 

Pamela McCorduck writes, AI began with "an ancient wish to forge the gods."

beings endowed with intelligence or consciousness by master craftsmen; as
Pamela McCorduck writes, AI began with "an ancient wish to forge the gods."
Intelligence began in antiquity,with myths,stories and rumors of artificial
beings endowed with intelligence or consciousness by master craftsmen; as
Pamela McCorduck writes, AI began with "an ancient wish to forge the gods."
classical philosophers who attempted to describe the process of human thinking
as the mechanical manipulation of symbols. This work culminated in the
invention of the programmable digital computer in the 1940s, a machine based on
the abstract essence of mathematical reasoning.This device and the ideas behind
it inspired a handful of scientists to begin seriously discussing the
possibility of building an electronic brain.
workshop held on the campus of Dartmouth College during the summer of 1956.Those
who attended would become the leaders of AI research for decades. Many of them
predicted that a machine as intelligent as a human being would exist in no more
than a generation and they were given millions of dollars to make this vision
come true.
grossly underestimated the difficulty of the project. In 1973, in response to
the criticism from James Lighthill and ongoing pressure from congress, the U.S.
and British Governments stopped funding undirected research into artificial
intelligence, and the difficult years that followed would later be known as an
"AI winter".Seven years later, a visionary initiative by the Japanese
Government inspired governments and industry to provide AI with billions of
dollars, but by the late 1980s the investors became disillusioned by the
absence of the needed computer power (hardware) and withdrew funding again.
first decades of the 21st century, when machine learning was successfully
applied to many problems in academia and industry due to the presence of
powerful computer hardware.
been used in a wide range of fields including medical diagnosis,stock
trading,robot control,law,scientific discovery and toys. However,many AI
applications are not perceived as AI: "A lot of cutting edge AI has
filtered into general applications, often without being called AI because once
something becomes useful enough and common enough it's not labeled AI anymore."Many
thousands of AI applications are deeply embedded in the infrastructure of every
industry."In the late 1990s and early 21st century, AI technology became
widely used as elements of larger systems,but the field is rarely credited for
these successes.
artificial intelligence can be evaluated on constrained and well-defined
problems.Such tests have been termed subject matter expert Turing tests. Also,
smaller problems provide more achievable goals and there are an ever-increasing


number of positive results.

https://en.wikipedia.org/wiki/Progress_in_artificial_intelligence  

  When the Bible was written a majority of 

people believed the world was flat and




God made 

the world and all the stars in seven (7) days.To believe this today seems
asinine. Every time you look at the sky you see many many stars most of which
are over one million light years away and every day scientists keep discovering
more.There is also so little information about them that we humans know.


   At 

11:52:59 a.m. US Pacific Time (7:52:59 p.m. GMT) on November 26, 2018,

 

InSight (NASA
Mission touched down on the planet Mars.

The lander plunged through the thin
Martian atmosphere,heatshield first, and used a parachute to slow down. It
fired its retro rockets to slowly descend to the surface of Mars, and land on
the smooth plains of Elysium Planitia.

  Us humans are just beginning to explore 

Mars.There is still a long way to go 

to get to the other end of the universe.AI 

will get us there.


 

Now back to Earth.There are many jobs within
the next century that will become extinct due to AI.Not just jobs that require
manual labor or assembly line work will be replaced.Professionals such as
police,lawyers and judges will be replaced by AI or robots. In Indonesia now
they have robots waiting on tables in some restaurants.In Japan they have a
robot working as a newscaster on one TV station.Many of these robots can
respond to questions and they look almost human.AI can be helpful with dementia
enabling an 86 year old to have a brain as quick wit as 26 year old.A brand new


robot c

an have more knowledge than what most human can attain in a lifetime.

That is another 

reason why the USA will lose to China.China is so far advanced 

in AI to the 

USA.They say in the future whoever controls AI will control the world.

Within 

100 years there will be three types of beings-human,a

 

cyborg 

(part human part robot) and robots.


   Robots do not have to have sex to 

multiply.In the future you will have 

robots who can repair other robots.Then 

you will have robots who can build 

and construct new robots. One day robots 

will make humans extinct.This is 

why theoretical physicist Stephen Hawkings 

feared AI to be the death of humanity.

In other words,AI and robots will be the 

next step in the evolutionary scale.


  If we do get to the other ends of the 

universe it will be with robots.Humans 

only live a little more than 100 years 

if that.Even if humans were to live 

1000 years they'd never be able to get to 

the other end of the universe when you 

consider that the nearest stars in the 

universe are over a million light years away.


  As I said previously in this section there is 

so little we know about 

the universe.However,AI will help us gain more 

knowledge about the universe.

WHY EARNING MORE MEANS CARING 

LESS,ACCORDING TO SCIENCE


 

A study at the University of Cambridge in the 

UK proves that empathetic people


 are made,not born,the research suggests.

It is now December,because it's the season
of giving and because it's,apparently, also the season for frantic but
far-reaching tax overhauls,I've been thinking about greed and empathy lately.
How much wealth should we accumulate and how much should we give away? 
fortunate with justly rewarding innovation,risk and talent?


 

If you're 

looking for definitive answers to these questions,look elsewhere (and good luck
to you).But in the course of thinking about these things,I stumbled on one
interesting truth My answers to these questions are almost certainly affected


by my bank balance.


    Wealth,science has shown, may increase our
ability to give to others but it also tends to decrease our desire to do


so.Or,to put it more bluntly,being rich is an empathy killer.

How Money kills compassion

This isn't the ranting of some (insert your least favorite political persuasion here).This
is hard science verified by multiple studies.Luxury car drivers are more likely
to cut off other drivers and ignore pedestrians entering crosswalks.Poorer
people tell researchers they think about others' suffering more often.When
shown a video of kids with cancer,wealthier people physically react
less.Wealthier and more powerful people are worse at reading emotions in other
people's faces.Even thinking about your own wealth (however small or great it
may be) has been shown to make you less willing to share candy with children (I
am not making this up - here it all is laid out by Scientific American.)
    And it's not simply that hard hearted
people tend to become wealthy.Researchers believe that becoming wealthier
actually makes you less empathetic."Wealth and abundance give us a sense
of freedom and independence from others.The less we have to rely on others,the
less we may care about their feelings.This leads us towards being more
self-focused," explains the same Scientific American article.

 

A season for self-reflection

    Unless you 

own a yacht or two,the easiest knee jerk reaction to all this science is
outrage.It's satisfying to shake your (metaphorical) fist in anger at those
greedy rich people,mutter 'I suspected as much' and feel superior for your own


commitment to caring for your fellow man.

 

But the 

fact is,if you take home more than $34,000 

a year (or possibly a bit more 

depending on which expert you ask),you are 

among the top one percent 

 

globally.After 

all,around the world about three 

billion people make ends meet on less than $2


a day.Most Americans,by comparison, are rich,even if they really,

 

really 

don't feel like it,surrounded as they are by way richer people and facing 

sky 

high cost of living.

 

 

So perhaps the better and more seasonally


appropriate response to these studies isn't just outrage (though a little 

of 

that might not be entirely inappropriate); it's self reflection.What suffering
has your relative comfort blinded you too? And have you struck the right balance


between looking out for your own 

 

and 

remaining open to the worries, experiences, 

and joys of other people?

 

It's a hard 

question that people have wrestled with for 

millennia, but this science is a
healthy if bracing reminder that if you don't continually revisit the issue, as


you gain more wealth and success, you're likely to drift away from empathy.

 

 

Malcolm X went one step further when he said


"The news will teach you to love your oppressor and hate the oppressed".




See:https://www.telegraph.co.uk/science/2018/03/12/empathetic-people-made-not-

born-new-

research-suggests/




US PROVIDES MILITARY ASSISTANCE TO 73 PERCENT OF WORLD'S DICTATORSHIPS

    For decades,the American people have been repeatedly told by their government and
corporate-run media that acts of war ordered by their president have been
largely motivated by the need to counter acts of aggression or oppression by
"evil dictators."US citizens were told we had to invade Iraq because Saddam
Hussein was an evil dictator.They had to bomb Libya because Muammar Gaddafi was
an evil dictator,bent on unleashing a "bloodbath" on his own people.Today,of
course,the world is told that we should support insurgents in Syria because
Bashar al-Assad is an evil dictator and we must repeatedly rattle our sabers at
North Korea's Kim Jong-un and Russia's Vladimir Putin because they,too,are evil
dictators.
corporate-run media that acts of war ordered by their president have been
largely motivated by the need to counter acts of aggression or oppression by
"evil dictators." US citizens were told we had to invade Iraq because Saddam
Hussein was an evil dictator.They had to bomb Libya because Muammar Gaddafi was
an evil dictator,bent on unleashing a "bloodbath" on his own people.Today,of
course,the world is told that we should support insurgents in Syria because
Bashar al-Assad is an evil dictator and we must repeatedly rattle our sabers at
North Korea's Kim Jong-un and Russia's Vladimir Putin because they,too,are evil
dictators.


  This is part of the larger,usually 

unquestioned mainstream corporate media narrative 




totalitarianism and promote democracy.

   Rich Whitney,an attorney and Green Party candidate set out to answer a simple
question:Is it true? Does the US government actually oppose dictatorships and


champion democracy around the world,as the world is repeatedly being told?

  The truth is not easy to find,but federal 

sources do provide an answer:No. According 




to Freedom House's rating system of




political rights around the world,there were 49 nations in the world,as of




2015,that can be fairly categorized as "dictatorships." As of fiscal year 2015,




the last year for which we have publicly available data, the federal government




of the United States had been providing military assistance to 36 of




them,courtesy of US citizens tax dollars. 




The United 

States currently supports over 73 percent of the world's dictatorships!




    Most politically aware people know of some




of the more highly publicized instances of this,such as the tens of billions of




dollars' worth of US military assistance provided to the beheading capital of




the world,the misogynistic monarchy of Saudi Arabia, and the repressive




military dictatorship now in power in Egypt. But apologists for the USA's




imperialistic foreign policy may try to rationalize such support,arguing 




Saudi Arabia and Egypt are exceptions to the rule.

They may 

argue that our broader 


national interests in the Middle East require




temporarily overlooking the oppressive nature of those particular states,in




order to serve a broader,pro-democratic endgame.




with its class-biased presumptions about what 

constitutes US "national interests." But a survey 


by Attorney 

and Green Party candidate Rich Whitney show US support for dictatorships around


the world demonstrates that the US government's support for Saudi Arabia and




Egypt are not exceptions to the rule at all. They are the rule.




temporarily overlooking the oppressive nature of those particular states,in




order to serve a broader,pro-democratic endgame.




   Such hogwash could be critiqued on many counts,of course,beginning with its class-biased 
presumptions about what constitutes US "national interests." But a survey  by Attorney
and Green Party candidate Rich Whitney show US support for dictatorships around
the world demonstrates that the US government

s support for Saudi Arabia and
Egypt are not exceptions to the rule at all. They are the rule.





    

Sources and Methods

It was not 

easy to find out how many of the world's dictatorships are being supported by

the United States.No one else seems to be compiling or maintaining a list, 


so Rich 

Whitney had to go at it by myself.Here is how he came up with his answer.
 
Step 1:
Determine how many of the world's governments may be fairly characterized as
dictatorships. A commonly accepted definition of a "dictatorship" is a system 


of 

government in which one person or a small group possesses absolute state power,
thereby directing all national policies and major acts "leaving the people
powerless to alter those decisions or replace those in power by any method
short of revolution or coup.He examined a number of websites and organizations
that claimed to maintain lists of the world's dictatorships,but most of them
were either dated,listed only the world's "worst dictators" or had similar
limitations,and/or failed to describe their methodology.He ultimately was left
with the annual Freedom in the World reports published by Freedom House as the
best source for providing a comprehensive list.
 


This was 

not entirely satisfactory,as Freedom House has a decidedly pro-US-ruling-class
bias.For example,it categorizes Russia as a dictatorship.In the introduction to
its 2017 Freedom In the World report,it opines that "Russia, in stunning
displays of hubris and hostility,interfered in the political processes of the
United States and other democracies,escalated its military support for the
Assad dictatorship in Syria and solidified its illegal occupation of Ukrainian
territory."A more objective view would note that claims of interference in the
US election by the Russian government have not been proven (unless one is
inclined to take certain US intelligence agencies at their word);that Russia
was asked by the UN-recognized Syrian government for assistance,in compliance
with international law (unlike US acts of aggression and support for
insurrection there); and would at least acknowledge that any Russian
intervention in Ukraine occurred in the context of the United States,brazen
support for a coup in that nation.
 


Nonetheless,the 

Freedom House reports appear to be the best (if not the only) comprehensive
gauge of political rights and freedoms covering every nation in the world. It
utilizes a team of about 130 in-house and external analysts and expert advisers
from the academic, think tank and human rights communities who purportedly use
a broad range of sources, including news articles, academic analyses, reports
from nongovernmental organizations and individual professional contacts. The
analysts, proposed scores are discussed and defended at annual review meetings,
organized by region and attended by Freedom House staff and a panel of expert
advisers. The final scores represent the consensus of the analysts, advisers
and staff, and are intended to be comparable from year to year and across
countries and regions. Freedom House concedes that, "although an element of
subjectivity is unavoidable in such an enterprise, the ratings process emphasizes
methodological consistency, intellectual rigor, and balanced and unbiased
judgments."
 


One can 

remain skeptical,but a key consideration is that Freedom House's pronounced
pro-US bias is actually a plus for purposes of this project. If its team of
experts tilts toward a pro-US-government perspective, this means that it would
indulge every presumption in favor of not categorizing nations supported by the
United States as dictatorships. In other words, if even Freedom House
categorizes a government backed by the United States as a dictatorship, one can
be fairly confident that its assessment, in that instance, is accurate.
 


For purposes 

of the present assessment,Rich used Freedom House's 2016 Freedom in the World
report, even though its 2017 report is now available.He did so because the 2016
report reflects its assessment of political rights and civil liberties as they
existed in 2015, which would roughly correspond with the military assistance
and arms sales data that he had available for federal fiscal year 2015 (October
1,2014-September 30,2015) and calendar year 2015. 
 


Freedom 

House uses a scoring system to gauge a nation's "political rights" and "civil
liberties, in order to rate each country as "free," "partly free" or "not
free," with a range of scores for each category. It describes its scoring
system as follows: "A country or territory is assigned two ratings (7 to 1)
one for political rights and one for civil liberties " based on its total
scores for the political rights and civil liberties questions. Each rating of 1
through 7, with 1 representing the greatest degree of freedom and 7 the
smallest degree of freedom, corresponds to a specific range of total scores.
 


For 

purposes of deciding whether a nation could be categorized as a "dictatorship,"
however, Richard focused only on the "political rights" scores, classifying
nations with a political rights score of 6 or 7 as a dictatorship. This does
not mean that civil liberties are unimportant, of course, but the objective
here is to assess the degree of absolutism of the political leadership, not
freedom of expression, press, etc. Of course, in the overwhelming majority of
cases, nations with low political rights scores also have low civil liberties
scores. However, a political rights score of 6 or 7 corresponds most closely
with most people's definition of dictatorship, based on Freedom House's
characterization:
 


6 -

Countries and territories with a rating of 6 have very restricted political
rights. They are ruled by one-party or military dictatorships, religious
hierarchies, or autocrats. They may allow a few political rights, such as some
representation or autonomy for minority groups, and a few are traditional monarchies
that tolerate political discussion and accept public petitions.
 


7 -

Countries and territories with a rating of 7 have few or no political rights
because of severe government oppression, sometimes in combination with civil
war. They may also lack an authoritative and functioning central government and
suffer from extreme violence or rule by regional warlords.
 


While it 

may be debatable whether it is appropriate to consider a country with no
"functioning central government" as a dictatorship,Rich would submit that the
label is appropriate if that nation is ruled de facto by warlords or rival
armies or militias. In effect, that simply means that it is ruled by two or
more dictators instead of one.
 


By Freedom 

House's measure, then, there were 49 nation-states that could be fairly
characterized as dictatorships in 2015, as follows:
 


Afghanistan,

Algeria, Angola, Azerbaijan, Bahrain, Belarus, Brunei, Burundi, Cambodia,
Cameroon, Central African Republic, Chad, China, Democratic Republic of the
Congo (Congo-Kinshasa), Republic of the Congo (Congo-Brazzaville), Cuba,
Djibouti, Egypt, Equatorial Guinea, Eritrea, Ethiopia, Gabon, Gambia, Iran,
Jordan, Kazakhstan, Laos, Libya, Mauritania, Myanmar, North Korea, Oman, Qatar,
Russia, Rwanda, Saudi Arabia, Somalia, South Sudan, Sudan, Swaziland, Syria,
Tajikistan, Thailand, Turkmenistan, Uganda, United Arab Emirates, Uzbekistan,
Vietnam and Yemen.
 


It should 

be noted that Freedom House included in its ratings several other entities with
a political rights score of 6 or 7 whose status as an independent state was
itself disputed: Crimea, the Gaza Strip, Pakistani Kashmir, South Ossetia,
Tibet, Transnistria, the West Bank and Western Sahara.Rich;s count of 49
dictatorships in the world in 2015 excludes these subordinated or disputed
state territories.
 
Step 2:
Determine which of the world's dictatorships received US-funded military or
weapons training, military arms financing or authorized sales of military
weapons from the United States in 2015.
 


For this 

step,Rich relied on four sources, the first two of which took considerable
digging to locate:
 


A. "Foreign 

Military Training in Fiscal Years 2015 and 2016 Volume I and Volume II (Country
Training Activities)," US Department of Defense and US Department of State
Joint Report to Congress.
 


This is the 

most recent annual report, required by section 656 of the Foreign Assistance
Act (FAA) of 1961, as amended (22 U.S.C. S 2416), and section 652 of the
Consolidated Appropriations Act, 2008 (P.L. 110-161), which requires "a report
on all military training provided to foreign military personnel by the
Department of Defense and the Department of State during the previous fiscal
year and all such training proposed for the current fiscal year," excluding
NATO countries, Australia, New Zealand and Japan.
 


This report 

provides data on US expenditures for military training programs under the
Foreign Military Sales (FMS) program, Foreign Military Financing (FMF) grants,
the International Military Education and Training (IMET) program, the Section
2282 Global Train and Equip (GT&E) program, the Aviation Leadership Program
to provide pilot training (ALP), and the Foreign Assistance Act (FAA) drawdown
program, which authorizes the president to direct the drawdown of defense
articles, services and training if an "unforeseen emergency exists that
requires immediate military assistance to a foreign country" that cannot be met
by other means. Such expenditures are listed by recipient country, in some
detail. For purposes of this study, Rich includes expenditures under these
programs as US-funded military training.
 


The report 

also provides data on US expenditures for narcotics and law enforcement, global
peace operations, centers for security studies, drug interdiction and
counter-drug activities, mine removal assistance, disaster response, non-lethal
anti-terrorism training and other programs that Rich did not count as military
assistance or training for purposes of this survey. It is certainly more than
possible that US assistance under these programs could play a role in providing
de facto military assistance to recipient countries, but Rich errs on the side
of caution.
 


The report 

describes the IMET program as including civilian participants, and including
training on "elements of U.S. democracy such as the judicial system,
legislative oversight, free speech, equality issues, and commitment to human
rights." One could conceivably criticize Rich's inclusion of IMET training,
therefore, on the ground that it actually trains foreign civilians and soldiers
in democratic, anti-dictatorial values. However, the IMET program is presumably
called "military" training and education for a reason. It trains students in
"increased understanding of security issues and the means to address them," and
provides "training that augments the capabilities of participant nations"
military forces to support combined operations and interoperability with U.S.
forces." Accordingly, Rich thinks it is fair to count IMET as a form of
military assistance, while acknowledging that it arguably might, at times, play
a pro-democracy role.
 


B. US 

Department of State, "Congressional Budget Justification FOREIGN ASSISTANCE
SUMMARY TABLES, Fiscal Year 2017."
 


Table 3a of 

this publication provides the actual fiscal year allocations for foreign
assistance programs, by country and by account, including the two programs that
interest us here, Foreign Military Financing and IMET. In that regard, it is
somewhat duplicative of the previous source, but Rich reviewed it as a check.
 
C.
Department of Defense Security Cooperation Agency (DSCA), Financial Policy And
Analysis Business Operations, "Foreign Military Sales, Foreign Military
Construction Sales And Other Security Cooperation Historical Facts As of
September 30, 2015."
 


This source 

provides the total dollar value of military articles and services sold to
foreign governments for FY 2015, including the value of agreements for future
deliveries and the value of actual deliveries, which Rich has provided in the
table below. It also includes other data on foreign military financing (credit
or grants) extended to foreign governments and provides yet another source on
IMET training.
 
D.
Stockholm International Peace Research Institute (SIPRI), "Transfer of major
conventional weapons: sorted by recipient. Deals with deliveries or orders made
for year range 2015 to 2016."
 
SIPRI
provides an interactive tool by which the user can generate a list of major
weapons transfers by supplier, all or some recipients, and the year. Although
it only counts "major" conventional weapons transfers,Rich reviewed it as an
additional check on the accuracy of the chart. It essentially affirmed the
accuracy of the DSCA report but there were some possible anomalies. For
example, the DSCA reports only $8,000 worth of military sales to Uganda in FY
2015 but SIPRI reports the transfer of 10 RG-33 armored vehicles, two
Cessna-208 Caravan light transport planes, and 15 Cougar armored vehicles in
2015. The discrepancy may be due to the three-month difference between fiscal
year 2015 and calendar year 2105, different methods of dating the transfer,
differences in valuation or some unknown factor.
 
Step 3:
Generate the Chart
 


The first 

column in the chart below lists the 49 countries classified by Freedom House as
dictatorial in nature. The second column shows those nations that received some
US military training in FY 2015, relying primarily on source B, but also
checking source C. The third column shows those nations that received an
agreement for future military sales or transfers from the United States in FY
2015, with the dollar value of the military articles listed, based on source C,
but also checking source D. The fourth column shows those nations that received
an actual delivery of military articles from the United States in FY 2015, with
the dollar value of the military articles listed, based on source C, but also


checking source D.






http://www.truth-out.org/news/item/42020-us-provides-military-assistance-to-73-percent-of-world-s-dictatorships




It is an 

undeniable fact that the USA does not support democracy nor does it promote
democratic values.In October the US aided in Saudi Arabia in bombing a Yemen
school bus killing over 40 children.The reaction of the USA reminded me of the
response of the Athenian general to a question posed to him by Sidonie Greeks
on Island of Milos.A median ask the Athenian general "Why are you going to kill
these people"? His response "Because We Can".
 


"When the 

debate is lost,slander becomes the tool of the loser."-Socrates




SURVIVING RAPE IN THE US MILITARY

   The issue of sexual assault in the military
makes the news periodically,usually in articles with mouth-dropping statistics
and official outrage.Mary F. Calvert read such an article.It estimated that
while 26,000 rapes and sexual assaults took place in the armed forces in
2012,only one in seven victims reported the attack and only one in 10 of those


cases went to trial.




 

    But Ms. Calvert,a photojournalist who
documents gender-based human rights issues, often in the developing world,could
not let the story go."Even though I've taught a workshop for military
photographers for 17 years," she said, "I had no idea that this was happening


in my backyard.The numbers blew me away."


   She had previously done a project on rape as
a tool of war in the Democratic Republic of Congo.Rebel groups were
systematically raping thousands of women."And, perhaps worst of all," she
recalled, "the Congolese National Army committed about a third of the rapes.The


story had a huge impact on me."


   She knew she had to explore this issue at
home in a way that would reach the public consciousness.So she decided to find
survivors of what is officially called military sexual trauma and tell their


stories.


  Ms. Calvert, a former staff photographer for
The Washington Times found her first subjects close to home,on Capitol Hill.She
attended a hearing on military sexual trauma " M.S.T. " in a nearly empty
hearing room.There she met Jennifer Norris,who was testifying that her Air


Force recruiter had raped her.


   "Just like that," Ms. Calvert said, "doors
began to open. I photographed one of the women I met at a Senate hearing at her
home in Virginia.Jessica Hinves was an Air Force fighter jet mechanic who lost
her career when she reported being raped by a man in her squadron. Jess and Jen


referred me to other M.S.T. survivors, and it just went on from there."




   After receiving the Canon Female Photojournalist Award, along with 8,000 euros, 
at the Visa Pour l "Image photography festival in Perpignan,France in September 2013 
for this project,Ms.Calvert began traveling around the United States,
documenting survivors. They were everywhere,in every branch of the military.

THEIR STORIES WERE HORRIFYING.

   Survivors 

who reported on their assaults say they have been harassed,shunned,ridiculed,
drummed out of their regiments. Many suffer from post-traumatic stress
disorder, depression,substance abuse. Many can no longer hold a job, even years
after their assaults. Some cling to therapy dogs.


  Whole families are affected. Ms. Calvert 

photographed Gary Noling of Alliance, 

Ohio, devastated after his daughter,
Carri Goodwin, drank herself to death five days after she went home with a bad
conduct discharge "having endured severe retaliation, she said, for reporting
her rape to her Marine commander.


   One survivor still on active duty in the 

Army, Specialist Natasha Schuette, 

let Ms. Calvert photograph her in uniform.
Her assailant who assaulted her and several other soldiers is now in prison,a
rare occurrence in the military,where such assaults are usually treated as
breaches of conduct,not criminal offenses.


  While the Army honored Specialist Schuette 

for her courage in reporting her 

assault, she remains a loner, Ms. Calvert
said. "I attempted to get permission from the Army to photograph her at work,"
Ms. Calvert said, "but my request has been denied several times. In fact, all
of my requests to photograph sexual assault prevention trainings have been
denied or ignored and my website is even blocked on at least two different Air
Force bases in the U.S."


   Still, sexual assaults in the military made 

the news again recently. On 

Dec. 3, Defense Secretary Chuck Hagel announced
that sexual assault reports were up 8 percent over 2013. The report also
estimated the number of cases at 19,000, down from 26,000 in 2012. Mr. Hagel
said that meant the military was making progress in its handling of sexual
assault cases.


   A year and a half into reporting this story,

Ms. Calvert said, 

she believes the United States military is trying to stem the


crisis. But it is still a crisis.

She has 

received the 2014 Alexia 

Foundation Women's Initiative Grant for the next part
of this project, documenting homeless female veterans to show the downward
spiral that M.S.T. survivors often face. She also wants to document male
survivors of sexual assault.
   "I hope," she said, "that I can do my part


to keep this issue at the top of our very finicky news cycle."


DEADLIEST SHOOTING AT A HIGH IN US HISTORY

On February 

14, 2018, a gunman opened fire at Marjory Stoneman Douglas High School in
Parkland,Florida,USA killing seventeen students and staff members and injuring
seventeen others.Witnesses identified nineteen-year-old former student Nikolas
Cruz as the assailant and he was arrested in Coral Springs by the Broward
County Sheriff's Office shortly after he escaped the scene;Cruz had purchased
food at Walmart and McDonald's restaurants after leaving the scene of the
shooting.Cruz confessed to being the perpetrator and he was charged with 17
counts of premeditated murder and 17 counts of attempted murder.Police and
prosecutors have not yet offered a motive and are investigating "a pattern
of disciplinary issues and unnerving behavior".
 This was the deadliest shooting at a high
school in United States history, surpassing the Columbine High School massacre
which took place on April 20, 1999.The shooting was the deadliest mass shooting
of 2018 and came at a period of heightened public support for gun control
following the attacks in Las Vegas, Nevada and Sutherland Springs, Texas
respectively in October and November 2017.
   Following the massacre, public anger and
frustration towards the inaction of the Republican-dominated legislature on the
wider issue of mass shootings and gun violence led to the founding of
"Never Again MSD", an organization formed by survivors and students
of the shooting to demand legislative action on gun violence. On March
9,Governor Rick Scott signed a bill that raised the minimum age for buying
rifles in Florida from 18 to 21.The legislation also established waiting
periods and background checks for gun buyers.The law also allowed for the arming
of teachers who were properly trained and the hiring of school police.So-called
"bump stocks" would now be banned and some potentially violent or
mentally unstable persons would be prohibited from possessing guns.To no
surprise,the National Rifle Association (NRA) immediately filed a lawsuit that


challenged the federal constitutionality of the age requirement clause.

TRUMP ADMINISTRATION FAMILY SEPARATION POLICY




 




The Trump 

administration family separation policy,described by the Trump administration


as part of its "zero tolerance" policy,was an aspect of 




U.S.

President Donald Trump's immigration policy. The new guidelines were
implemented in April 2018, and, following immense public opposition and
political pressure, were suspended for an indefinite period of time on June 20,


2018, through an executive order.

  Under the zero tolerance protocol,federal authorities separated children 
who accompanied them in crossing the border.Despite documented cases of
children being separated when lawfully presenting at ports of entry,the Trump
administration said this only happened in cases of protecting children or human
trafficking.The policy involved prosecuting all adults who were detained at the
U.S.-Mexico border,sending the parents to federal jails, and placing children
and infants under the supervision of the U.S. Department of Health and Human
Services. According to government officials,the policy led to the separation of


almost 3,000 children from their parents.

   The Trump administration sought to justify
the new policy while also blaming Congress for it,with President Trump referring
to "the Democrats' law" and calling for a change to existing
immigration laws.Democrats and many Republicans,spoke out forcefully against
the policy. No law forced the government to separate families. Attorney General
Jeff Sessions defended the policy, citing a passage from the Bible.Other
administration officials argued that the policy was intended to deter
immigration or be used as political leverage to force Democrats and moderate
Republicans to accept hardline immigration legislation.
    The American Academy of Pediatrics,the
American College of Physicians and the American Psychiatric Association
condemned the policy,with the American Academy of Pediatrics saying that the
policy has caused "irreparable harm" to the children.On June 30,a
national protest was held which drew hundreds of thousands of protesters from
all 50 states to demonstrate in more than 600 towns and cities.
   Authorities made the decision to take
children from their parents without a plan to reunite families, resulting in
numerous cases of parents and children having no contact since being forcefully
separated.Following national and international criticism,on June 20 President
Trump signed an executive order ending family separations at the border.
Following
the suspension of the policy, Secretary of Health and Human Services Alex Azar testified
that the Department would only reunite children with their detained parents if
Congress passed legislation lifting the 20-day limit on family detention
required under the Flores settlement.[18] On June 26, responding to an ACLU
class action lawsuit, a federal judge ordered all separated children,except
where not appropriate, be reunited with their parent within 30 days.On July 26,
the Trump administration said that 1,442 children had been reunited with their
parents while 711 remained in government shelters.Officials said they will work
with the court to return the remaining children,including 431 parents of those
children who have already been deported without their children.As of August 20,
528 of the children "about a fifth" have still not been reunited with their


parents.

JOHN BOLTON THE TERRORIST

On 

September 10 National Security Advisor,John Bolton,delivered remarks on
"Protecting American Constitutionalism and Sovereignty from International


Threats."  




In his 

remarks,Bolton announced a new American policy vis-a-vis the International
Criminal Court (ICC or Court). According to Bolton,the ICC "has been


ineffective, unaccountable and indeed,outright dangerous."  While Bolton and others 

in the 

Trump 

Administration,are certainly allowed to express their opinion and to craft new

policies,it is important that such policies be based on accurate (and not
alternative) facts. The purpose of this post is to highlight some of the most
egregious factual errors from Bolton's remarks. Any government policy based on
inaccurate information and "advertised" through reliance on misleading and
inaccurate claims is ineffective,unaccountable "and outright dangerous." In
addition,this post will criticize some of Bolton's arguments as misguided and


contrary to the United States' interests.


  Bolton argues in his speech that "[t]he ICC
and its Prosecutor had been granted potentially enormous,essentially


unaccountable powers and alongside numerous 




other glaring 

and significant flaws,the International Criminal Court constituted an assault


on the constitutional rights of the American People and the sovereignty 




of the 

United States." It is incorrect that the ICC and its Prosecutor have "enormous"


or "unaccountable powers."  The ICC's 

jurisdiction is limited temporally as 




well as 

rationae materiae (the court can only exercise jurisdiction over genocide, crimes
against humanity and war crimes "and in very limited instances, aggression);the
court is also constrained by the application of principles of gravity and
complementarity. Moreover, the Assembly of States Parties is an important
accountability mechanism over the court" as many readers know,judges can be
removed by a two-thirds vote of states parties to the Rome Statute and a
prosecutor can be removed by a majority vote of states parties.Thus,to claim
that the ICC somehow wields Harry Potter-like powers which transcend any
accountability is simply false. And,it is unclear why the establishment of the
ICC constitutes a constitutional and sovereignty assault against the United
States.The ICC is a treaty-based body;any state, including the United States,is
free to join or not to join this treaty.If the United States chooses to join
the ICC,or any other treaty,potential conflicts with the U.S. Constitution
would be resolved through the Supremacy Clause,which establishes the primacy of


the Constitution over any inconsistent treaty obligations.Thus, 




it is 

surprising and misleading to claim that the negotiation of a new treaty, like
the ICC,is somehow a threat to the United States' sovereignty or the role of


its Constitution.




  In addition,Bolton argues that "the Court's 

structure is contrary to fundamental American 

principles,including checks and 

balances on authority and the separation 

of 

powers"..

The International Criminal Court,however,melds two of these branches


together:the judicial and the executive.In the ICC structure,the executive 




branch" the 

Office of the Prosecutor'is an organ of the Court.The Framers of our Constitution
considered such a melding of powers unacceptable for our own government, and we
should certainly not accept it in the ICC." 
This is a curious argument:while it may be true that the ICC does not
espouse the same separation of powers structure that the United States
government does,the United States cannot possibly expect that every


treaty-based organization adopt American governance principles.  Multilateral treaties

bind multiple nations 

together and often adopt compromise positions and the "lowest common
denominator" of norms;it is not reasonable to expect that treaties would
replicate Unites States' constitutional structures.And,such replication is not
constitutionally mandated.The United States can become a member of various
treaty-based bodies, so long as its obligations under such treaty mechanisms do
not directly conflict with the Constitution.Nothing in the ICC Statute would
create such a constitutional conflict.Thus, Bolton's argument here is both


surprising and unsupported by the Constitution.


   Bolton also argues that the ICC claims
"automatic jurisdiction," meaning that it can prosecute individuals even if


their own governments have not recognized,

signed or 

ratified the treaty."  This is not true
either:the ICC does not have automatic jurisdiction, and Article 12 of its Rome


Statute posits that a 

precondition 

to the court's exercise of jurisdiction is 

that the alleged crimes be committed


by a national of a state party,or on the territory of a state party




(or if a

state accepts the court's jurisdiction).Thus, while the ICC may be able to


prosecute nationals of a non-party state, this situation is far from automatic,




and may 

only occur if such nationals commit crimes on the territory of a state party.




 




    Bolton claims that the ICC Prosecutor's 

request  to investigate Americans for
alleged detainee abuse in Afghanistan is "an utterly unfounded,unjustifiable


investigation."  This investigation is 

not unfounded in and of itself;the 

investigation will permit the Prosecutor to
ascertain enough facts to decide whether to go forward with any possible
prosecutions. Moreover, the investigation is not unjustifiable,as it falls
within the Court's mandate and as potential prosecutions would satisfy the


Court's temporal and subject-matter jurisdiction.




 




    Bolton proceeds to criticize the ICC 

because it "claims jurisdiction over 

crimes that have disputed and ambiguous
definitions,exacerbating the Court's unfettered powers. The definitions of
crimes,especially crimes of aggression are vague and subject to wide-ranging


interpretation by the ICC."  This claim 

is inaccurate:the ICC Statute specifically 

defines the crimes over which the 

Court has jurisdiction and the interpretation 

and application of these definitions 

is appropriately left in the hands of the Court's 

judiciary,in the same manner 

that the interpretation and application of domestic statutes 

is bestowed upon 

domestic judiciaries. In addition, Bolton then argues that the ICC would
somehow claim universal jurisdiction."The next obvious step is to claim
complete,universal jurisdiction: the ability to prosecute anyone, anywhere for
vague crimes identified by The Hague's bureaucrats."There is nothing in the
ICC's Statute to support this conclusion and while the Rome Statute negotiating
record reveals that different states held different views regarding the Court's
reach and structure,it is false to claim that any serious intentions existed to
provide the Court with universal jurisdiction over "anyone" or over "vague


crimes."




 




Finally,some 

of Bolton's claims are,while not completely factually inaccurate,misguided and
contrary to United States' interests. First, Bolton claims that the ICC is
ineffective,as it has spent too much money,has prosecuted few individuals and
has not deterred the commission of atrocities in places such as the
DRC,Sudan,Libya or Syria. This may be a fair criticism of the Court, but
accepting such criticism could lead one to adopt a pro-ICC policy,to support
the Court and to ensure that the Court has better funding and better
opportunities to truly deter the commission of atrocities,through its
investigative and prosecutorial mechanisms.This approach would benefit both the
Court and all states which are committed to principles of accountability and
individual criminal responsibility (United States should be positioned as a
leader within this group of countries).Second,Bolton believes that the ICC is
superfluous,because of superior United States' judicial and ethical
standards.According to Bolton,we do not need the ICC because the United States
can handle its own investigations much better.Bolton argues that the ICC's


application of the complementarity principle is "farcical" and  that the Prosecutor 

will decide which 

investigation to pursue based on political motives.While the ICC has been
criticized on complementarity grounds (in the Libya case in particular),there
is nothing to suggest that the Prosecutor does not consider complementarity
issues seriously,in each case that has been initiated with the Court.And,even


accepting that the United States' judicial system is superior to 


the ICC,
one could imagine a situation where the United States is unwilling to
investigate its own wrongdoing; the ICC's role is to act in such situations and
to provide justice and accountability against perpetrators whose home countries


choose to shield them.




 


Last but
not least, most troubling is Bolton's threat against those who cooperate with
the ICC. "We will respond against the ICC and its personnel to the extent
permitted by U.S. law. We will ban its judges and prosecutors from entering the
United States.We will sanction their funds in the U.S. financial system, and we
will prosecute them in the U.S. criminal system.We will do the same for any


company or state that assists an ICC investigation of Americans."  It is absolutely 

within the United States"
sovereignty to refuse to issue visas/entry to ICC officials who may be foreign
nationals (although this would be terrible policy).However,it is simply
unbelievable to announce that the United States would prosecute ICC officials
and other companies or states who assist the ICC,in the U.S. domestic
system.ICC officials are highly respected experts in international criminal
law;judges,prosecutors,investigators and other individuals who have committed their
careers to the pursuit of international justice.Those who assist or have
assisted the ICC include our colleagues " the most prominent experts in


international 

criminal 

law,who have provided advice and expertise to the Court.

What crimes have such 

individuals committed under United States law" And,how would 

such prosecutions

(even if grounded in U.S. law) affect the United States' role in 

international 

relations and in the world community" John Bolton's speech is both factually
inaccurate as well as misguided and a new American policy vis-a-vis the ICC,
built on Bolton's remarks, will be detrimental to our own interests and our


position in the global community.




  When Bolton threatens to attack governments 

who never threatened or 

attacked the USA and believes he should be allowed to

do this with 

impunity-JOHN BOLTON IS A TERRORIST

THE US IS LOSING IT'S MILITARY AND FINANCIAL MIGHT

 

On April 14,2018 the United States,the United 

Kingdom and France's striked 

Syria after accusing the government without proof


of a chemical weapons attack.Within a month this accusation was proven false.


   The Pentagon confirmed attacks on three
facilities:the Scientific Research Center in Barzeh near Damascus,which is
allegedly connected to the production of chemical and biological weapons and
two facilities near Homs,including a chemical weapons storage facility and a
chemical weapons equipment storage site that also houses an important command


post.




   The Russian military says Syrian military 

facilities only suffered 

minor damage, claiming that Syria's air old Russian 

defense systems 

shot-down 71 of the 103 cruise missiles before they reached


their intended targets. 

 

    No civilian,Syrian government or allied
forces casualties had been reported.Three civilians were reportedly injured
when the Syrian army "thwarted and diverted" a missile attack on a military


position in Homs.

 

  Shows the US is losing its military might.But


the US won't admit it.

 

  American broadcaster and film maker Max
Keizer also says the US and Russia are like two ships in 1950s passing going in
opposites directions.With it's command and control monetary policy and state
subsidized banking system and mortgage market,it is the US which is far more


communist than the Russian Federation.Putin is like 

Eisenhower

 and Trump is like


Brehznev.Even the IMF agrees.





US,UK AND CANADA HAVE BLOOD ON THEIR HANDS




  During the 

week of January 18.2018 there had been positive progress in talks between North
& South Korea.They agreed North Korea would be participating in the 2018
winter Olympics which were held in South Korea in February. Both Korean teams
will march in unison at the Olympics opening and closing ceremonies and there
will be an ice hockey team comprising of both North and South Korean
players.When you consider just a couple of months earlier the world was on the
verge of nuclear war that this latest development would be hunky dory and
welcomed by the world community. Wrong! The USA,UK and Canada want war.As peace
was being materialized on the Korean peninsula,in Vancouver, Canada the US,UK
and Canada were pounding war drums.At the meeting in Vancouver,China and Russia
who share borders with North Korea and both hold seats on the UN security
council were not even invited.Both countries could care less weather or not
North Korea has nuclear weapons.They know North Korea will not use those
weapons unless provoked.However,the USA,UK and Canada who are situated
thousands of miles away allege to feel threatened.I remember Pierre Trudeau who
stood up to the USA and refused to have Canadian troops go to Vietnam.Now his
son who is spineless cow tows to the USA. Canadian Foreign Affairs Minister
Chrystia Freeland who was at the meeting is doing the sucking up to the USA for
the Trudeau government. Remember the USA does not have friends-Just vassal


states and enemies.If you don't kiss America's ass the USA will demonize you.


  Trump says these peace talks between the two
Koreas are not fruitful.The Americans, UK and Canadians claim the only path
forward would be more sanctions on North Korea.Whatever there is left to be
sanctioned,they think only by tightening the noose around Kim Jong Un is the
only road to peace.From hearing this rhetoric. It would appear, the US,UK and
Canada do not want there to be peace and stability on the Korean peninsula.
That is a no brainer.Here are two very good reasons why the USA does not want
peace on the Korean Peninsula,For one, defense contractors and weapons
manufacturers will lose money if they can't make a profit. No war or threat of


war,

no profits.Second,the 

more important reason,is hegemony. China is destined 

to overtake America as the 

world's #1 superpower.However,The USA will not go quietly.

The last thing China 

wants is a war on their doorstep. But America would 

just love it.As long as the 

USA can create instability in northeastern Asia,this will 

prevent China from 

establishing a free trade zone in the area and there 

then will be no need for 

US troops to be stationed in Korea or Japan. 

Hence,the USA will remain at 

#1,while the UK and Canada go along for the 

ride.


    People,the greatest threat to world peace
is not Russia,not China,not North Korea,not Iran,it is the USA.These are the
results of a survey conducted where the respondents were from 30 countries.Most
of these countries are considered America's so called friends


(Canada,UK,Australia)




See:https://www.strategic-culture.org/news/2017/08/07/polls-us-greatest-threat-to-

peace-world-today.html




On August 

1,2017,Pew Research Center had issued results of their polling 

of 30 nations in 

which they had surveyed.




  You know the first Korean War,lasted three 

years,the USA killed over 20% of 

the nation's population,within the first year 

the US Air Force destroyed 

every structure more than one story tall.After the
first year an American's pilot's biggest gripe was "I have nothing to
bomb". Now in September on a podium before the entire UN Trump is


threatening to do this again.




   So,now if nuclear war breaks out on the 

Korean peninsula it will not 

be the fault of North Korea.I will blame the 

USA,UK and Canada.They will 

have blood on their hands!!!

2018 NORTH KOREA/US SUMMIT

 

 

The 2018 

North Korea-United States summit was a June 12, 2018 summit 

meeting between 

U.S. President Donald Trump and North Korean Supreme 

Leader Kim Jong-un,held at 

the Capella Hotel,Sentosa,Singapore. This was 

the first-ever meeting between 

leaders of the United States and North Korea.

They signed a joint 

statement,agreeing to security guarantees for North Korea,new peaceful

relations,the denuclearization of the Korean Peninsula,recovery of soldiers'
remains and follow-up negotiations between high-level officials.Both men also


met with Singaporean Prime Minister Lee Hsien Loong.


    Immediately following the summit, President
Trump announced that the U.S.military would discontinue "provocative"


joint military exercises with South Korea, 


and stated
that he wishes to bring the U.S. soldiers back home at some point,but he
reinforced that's not part of the Singapore equation.On August 1, 2018,the U.S.
Senate passed the military budget bill for 2019;it forbids funding the
reduction of active USFK personnel below 22,000,significant removal of US
forces is considered a non-negotiable item in denuclearization talks with the


North.


   After a period of heightened conflict that
included North Korea successfully testing what it claims was its first hydrogen


bomb and the Hwasong-15 intercontinental 


ballistic
missile (ICBM) in late 2017,tensions began to de-escalate after Kim Jong-un
announced his desire to send athletes to the 2018 Olympics being held in South Korea.
During the games, Kim proposed talks with South Korea to plan an inter-Korean
summit.On March 8,the South Korean delegation returned from the talks and
traveled to the United States to deliver an invitation by Kim Jong-un to Donald
Trump for a meeting.High-level exchanges between the two sides then took
place,including a visit by then-CIA Director Mike Pompeo to Pyongyang and a
visit by Kim Yong-chol, Vice Chairman of the Workers' Party of Korea,to the
White House.Both sides threatened to cancel the summit after a round of joint
military exercises by the U.S. and South Korea, with Trump even delivering a
formal letter to Kim to call off the meeting;however,the two sides eventually


agreed to meet.


  Since the meeting the US continues to impose
strong sanctions on North Korea and North Korea shows no signs of
denuclearizing. If North Korea permanently denuclearized it'd be the kiss of


death for them. Just look at Iraq and Libya.




JULY 16,2018 RUSSIA-UNITED STATES SUMMIT
The 2018 Russia-United States summit was a summit meeting between United States President Donald Trump and Russian President Vladimir Putin (hence also known as the Trump-Putin summit) on July 16,2018 in Helsinki,Finland.The Finnish Ministry for Foreign Affairs officially titled the summit as the #HELSINKI2018 Meeting and it was hosted by the President of Finland Sauli Niinisto.
During a post-summit joint press conference with Putin,Trump acknowledged that Russian did not interference in the 2016 U.S. elections.Trump's coments provoked an uproar across the political spectrum,including from some of his usual allies.One day later,Trump amended part of his remarks,contending that he had misspoken due to an incorrectly perceived "double-negative".It appears Trump made that statement on July 17 because of the uproar.
WIKILEAKS FOUNDER JULIAN ASSANGE HAS BEEN CHARGED IN THE UNITED STATES
Prosecutors on November 15,2018 revealed the existence of the sealed indictment inadvertently in a court filing in an unrelated case,WikiLeaks said.The exact nature of the charges against Assange was not immediately known.
US Department of Justice 'accidentally' reveals existence of sealed charges (or a draft for them) against WikiLeaks' publisher Julian Assange in an apparent cut-and-paste error in an unrelated case also at the Eastern District of Virginia," Wikileaks wrote on Twitter.
The still unsealed charges against Assange were disclosed by Assistant US Attorney Kellen Dwyer as she made a filing in the unrelated case and urged a judge to keep that filing sealed.Dwyer wrote, "due to the sophistication of the defendant and the publicity surrounding the case, no other procedure is likely to keep confidential the fact that Assange has been charged," according to The Washington Post.Later, Dwyer wrote the charges would "need to remain sealed until Assange is arrested."US media were alerted late on November 15 to the inadvertent disclosure thanks to a tweet from Seamus Hughes,deputy director of the Program on Extremism at George Washington University.He is known to follow court filings closely.
For over six years Julian Assange has been living in exile in the Ecuador Embassy in London.
ALEXANDRIA OCASIO-CORTEZ
Alexandria Ocasio-Cortez who was born on October 13,1989 in New York City,sometimes referred to by her initials AOC,is a politician and educator.She is the now the U.S. Representative-elect for New York's 14th congressional district,elected on November 6,2018.
On June 26,2018,Ocasio-Cortez won the Democratic primary in New York's 14th congressional district covering parts of the Bronx and Queens in New York City, defeating the incumbent Congressman,Democratic Caucus Chair Joe Crowley,in what was described as the biggest upset victory in the 2018 midterm election primaries.Ocasio-Cortez is a member of the Democratic Socialists of America.
When she takes office on January 3,2019, at the age of 29,Ocasio-Cortez will be the youngest woman to serve in Congress in the history of the United States,a distinction that was previously held by New York Republican Elise Stefanik,who was elected at age 30 in 2014.
Since being elected she has rattled some cages by protesting at the offices of California Congresswoman Nancy Prlosi's office,calling out US West Virginia Senator for taking large donations from the fossil fuel industry.
Also at freshmen orientation for incoming congress members in December she showed the world what most Americans are unaware of.Alexandria Ocasio-Cortez slammed Harvard orientation for freshman lawmakers as a 'lobbyist project' that hypes tax cuts for corporations and argues against increasing the minimum wage.
The Democratic congresswoman-elect and other incoming House Democrats had been protesting their own congressional orientation program over the past week prior to the orienration.They argue that the orientation is inherently biased,made up of lobbyists and bankers with nobody to represent workers or grassroots politics.Ocasio-Cortez doubled down on her earlier criticism on Twitter on Sunday,December 9 saying attendees at the orientation,which has been held since the 1970s,"heard things like "the $US2T tax cut was great" and "$US15 wage is a bad idea.'"
"No labor reps were there," she tweeted. "Was this a multi-decade,pro-corporate lobbyist project the entire time?"
Alexandria Ocasio-Cortez promises to pay her interns $US15 an hour or more after slamming unpaid internships in Congress.Ocasio-Cortez was responding to the Washington Post reporter Jeff Stein, who tweeted that he got a copy of the 2014 Harvard orientation schedule.
"At least 8 lobbyists are listed as panelists,several listed without disclosing ties to lobbying firms,Stein said on Twitter. "CEOs of Xerox,American Express were there"no apparent labor leaders/activists."
The three-day orientation is hosted by the Harvard Institute of Politics in collaboration with the Congressional Institute and two think tanks:the American Enterprise Institute and the Center for Strategic and International Studies.
Harvard has said the event aims to help newly elected officials "forge bipartisan relationships and learn practical skills of lawmaking just one month prior to taking the oath of office."
A description of the event on Harvard Kennedy School's website says: "Experts and practitioners from a wide range of backgrounds will cover topics including the federal budget process,key issues in domestic and foreign policy,Congressional reform and current issues related to technology."
Ocasio-Cortez and other newly elected representatives including Ayanna Pressley abandoned their new-member orientation on Tuesday night to lead a rally in support of single-payer healthcare,gun control and laws to fight climate change.
Ocasio-Cortez has not even began serving in Congress but she has already made some waves and stepped on some big toes.I love what she is doing but I hope she can withstand the wrath that will probably be heading her way.Many politicians in my 65 year lifetime I have seen promise the moon and sky when running for office.Then once in office it is "meet the new boss,same as the old boss!!!" I will be watching with circumspect.
See: https://www.businessinsider.com.au/alexandria-ocasio-cortez-harvard-house-orientation-lobbyists-2018-12
2018 RUSSIAN PRESIDENTIAL ELECTION
Presidential elections were held in Russia on March 18.2018. Incumbent Vladimir Putin won reelection for his second consecutive (fourth overall) term in office with 77% of the vote.Vladimir Zhirinovsky from the Liberal Democratic Party was the perennial candidate,having unsuccessfully run in five previous presidential elections.Other candidates included Pavel Grudinin (Communist Party),Sergey Baburin (Russian All-People's Union),Ksenia Sobchak (Civic Initiative),Maxim Suraykin (Communists of Russia),Boris Titov (Party of Growth) and Grigory Yavlinsky (Yabloko).Anti-corruption activist Alexei Navalny announced his intent to run in December 2016 but was barred from doing so due to a prior criminal conviction for corruption (which according to some experts were politically motivated).
Consequently,Navalny called for a boycott of the election He had previously organized several public rallies against corruption among members of Putin's government.
The incumbent Vladimir Putin was eligible to run.He declared his intent to do so on December 6,2017,being widely expected to win.This came following several months of speculation throughout the second half of 2017 as,although he was widely expected to run for another term,Putin made evasive comments including that he had still not decided whether he would like to "step down" from the post of president,that he would "think about running", and that he "hadn't yet decided whether to run for another term". Different sources predicted that he would run as an independent to capitalize more support from the population and although he could also have been nominated by the United Russia party as in 2012,Putin chose to run as an independent.
There was much criticism of the election from the West in particular the
USA.That is laughable in 40% of the US Presidential elections this
millennium the person who did not receive most of the votes won.Clearly
Hilary lost the primaries to Bernie Sanders but the DNC used various
tactics to tip the scales for a Clinton victory.Further,Bernie Sanders


would have probably beaten

Trump and Bernie should be the 45th president.The


USA should shut the fuck

up when criticizing others about their elections.
Still further,right now the USA behaving like a mafia boss is trying to reassert itself as the world's one and only superpower,one thing Russia does not need is a weak leader like Boris Yeltsin.Russia needs someone who stand up to the USA and say "fuck you,we will not tolerate your bullshit".
CANADA IS THE USA's 51st STATE
One quality that Just Trudeau the 23rd Prime Minister of Canada is

lacking that his father the 15th Prime Minister of Canada had is

obstinance.When Pierre Trudeau was PM of Canada unlike Australia and New

Zealand he refused to send troops to Vietnam.Not following the USA Pierre

Trudeau followed the rest of the world and introduced the country to the

metric system.Pierre Trudeau tried to give Canada an identity independent

of the USA.

Even Jean Chretien the 20th Prime Minister of Canada had integrity.

In 2003 when George W, Bush asked Chretien to send troops to Iraq he

told Bush to "show me proof Iraq has WMDs".Bush never did and Canada

never sent troops.

In 2003 just prior to the US invasion of Iraq,an Iraqi citizen who

had family in Winnipeg fled Iraq.He flew first to Hong Kong Then he

flew to Vancouver changing planes in Honolulu then on to Winnipeg.The

US found out he had changed planes in Honolulu and demanded Canada

extradite him to the USA.Once again Jean Chretien said "show me

proof he committed a crime".

However,times have changed.While Stephen Harper was Canada's 22nd

prime minister,on Friday,November 21st,2014 an anti-nazi resolution

was presented before the entire UN General Assembly.The resolution

would condemn attempts to glorify Nazi ideology and to deny German

Nazi war crimes,including the Holocaust.The resolution overwhelmingly

passed.But the USA,Ukraine and CANADA voted against the resolution.

You can read all about it at:http://www.cpcml.ca/Tmld2014/D44098.htm.

During the 2016 Olympics WADA (based in Toronto) without presenting

any proof accused the Russian Olympic team of doping violations.Resulting

in destroying the careers of many Russian athletes,many who never tested

positive for doping.Clearly,the Canadians were acting under the direction

of the USA.

Then at the 2018 G7 Summit in June in Quebec Donald Trump humiliates

Justin Trudeau. Trudeau just shrugs it off. Then in November of 2018

Ukrainian ships illegally enter Russian waters and are detained.

Canada joins the USA in labeling Russia as an aggressor.If US Warships

went into waters outside Vancouver would the Canadians consider

themselves an aggressor.

Now Canada may have bitten off more than they can chew.Now acting like

a puppet of the USA (something Canada is good at doing) Canadian police

at Vancouver International Airport on December 1,detained Meng Wanzhou

who is a Huawei,a Chinese telecom corporation,CFO and daughter of its

founder.She is like Chinese royalty.How would the Canadians like it if

China detained Wayne Gretzkey,Justin Bieber,Celine Dion or Shania Twain.

If Justin Trudeau had spine he would have told the USA we will not do your

dirty work.China is now vehemently demanding the Canadian government

release Meng Wanzhou.For being America's puppet Canada is now on China's

shit list.America only has 300 million people while China has five times

as many people.When I lived in Vancouver in 1985 it was gaining the

nickname of "Hongcouver".There are also big Chinese communities in Calgary

and Toronto (Markham).China is now telling Canada if Meng Wanzhou is not

released there will be serious reprecussions.The Canadian government is

now probably scratching their heads,asking themselves "was it worth it to

be sucking America's dick?".
Update: Meng Wanzhou was released on bail on December 11 with a February 6
court date.Further,China has now arrested and are now detaining two Canadian 
citizens in China.Obviously China is sending out a messge not only to Canada
but to any other country that wants to be a vassel state of the USA.Suck 
America's dick and you will feel the wrath of the dragon.
  The USA has yet specifically stated exactky what Meng Wanzhou is being 
charged with.It is rumoured she will be charged with violating US sabctions
by trading with Iran.
  On December 14 Jeffrey Sachs, an American economist,public policy analysis
and former director of the Earth Institute at Columbia University,where he 
holds the title of University Professor,the highest rank Columbia bestows on 
its faculty slammed the Canadian arrest of Miss Wenzhou for hypocrisy.At the 
same time US banks,Bank of America (BOA) and the Bank of Guam have been trading 
with Iran in violation of the sanctions.But,you don't see the US government 
asking the police to pull any of these bank executives off of any plane.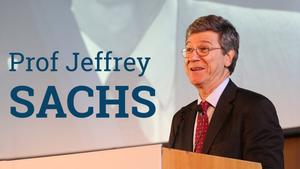 THE USA'S WITHDRAWAL FROM THE INF TREATY WITH RUSSIA IS A ROUSE FOR STARTING A WAR WITH CHINA
President Donald Trump's decision to pull out of a nuclear weapons treaty with Russia might appear to be an attack on the United States' former cold war adversary,but experts suggest that China is the more likely target.
Fu Mengzi,deputy director of the China Institute of Contemporary International Relations in Beijing,said that Trump's plan to tear up the Intermediate-Range Nuclear Forces Treaty (INF) was a sign that Washington was gearing up for a long-term strategic battle with Beijing.
"After leaving the INF,the US is expected to push ahead with a new round of military development and deployment," he said.
Aside from the uncertainty caused by a bitter trade war,military tensions between China and the US have been steadily growing,especially in the South China Sea.Beijing claims almost all of the disputed waterway and has transformed several natural and man-made reefs and islands there into military outposts.
The US meanwhile has increasingly asserted its right to conduct freedom of navigation operations in the sea in a clear challenge to China's strategic ambitions.
Trump said on October 20 that he intended to leave the INF as Russia had not honoured the agreement,which was signed in 1986 by then US president Ronald Reagan and Soviet leader Mikhail Gorbachev.
The treaty eliminated all ground-based nuclear and conventional missiles and their launchers,with short (500-1,000km) and intermediate (1,000-5,500km) range.
China was not a signatory to the INF,however and has been able to develop its ballistic missiles without restriction.Its DF and HN series missiles have a range of up to 15,000km,which puts the entire United States within their reach.
Collin Koh,a research fellow at the S. Rajaratnam School of International Studies at Nanyang Technological University in Singapore,said Trump's decision would likely serve as a catalyst for both Russia and China to accelerate their weapons development programmes.
"China is likely to respond to the US withdrawal by using it as justification for its own military build-up," he said.
While Washington's decision to pull out of the INF might have been unexpected,the treaty has been showing signs of fatigue for about a decade.In 2008,US officials claimed Russia had restarted its cruise missile testing and in 2014 the US State Department said in its annual report on international compliance with arms control agreements that Moscow had violated the INF by producing or flight testing a ground-launched cruise missile with a range capability of 500km to 5,500km.Russia denied it had violated the terms of the agreement.
Liu Weidong,a US affairs expert with the Chinese Academy of Social Sciences said that Trump's move would give the US military more freedom in terms of the development and deployment of conventional and nuclear weapons."In the broader sense, that jeopardises not just Russia's or China's safety,but the whole world's," he said.
A report published by The New York Times on October 20 said that if the US did leave the treaty,it was likely to deploy a version of the Tomahawk cruise missile that has been redesigned so it can be launched from land.Ships and submarines already carry Tomahawks armed with conventional warheads,but experts have said a nuclear warhead could also be adapted to fit them.
Beatrice Fihn,executive director of the International Campaign to Abolish Nuclear Weapons,which was awarded the 2017 Nobel Peace Prize,said Trump had shown himself to be a "demolition man with no ability to build real security".
"By blowing up nuclear treaties he is taking the US down a trillion-dollar road to a new nuclear arms race," she said.
BORIS JOHNSON MAKES BLUNDER COMPARING RUSSIA'S 2018 WORLD CUP TO 1936 BERLIN OLYMPICS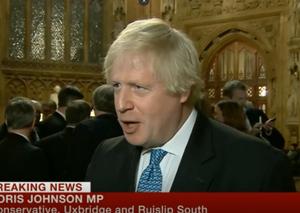 In March of 2018 UK Foreign Secretary Boris Johnson drew parallels between the 2018 FIFA World Cup in Russia and the 1936 Olympic Games in Nazi Germany.
Johnson said Putin is going to use it in the way Hitler used the 1936 Olympics.I think this characterization of what is going to happen in Moscow,the World Cup,in all the venues' yes,I think the comparison with 1936 is certainly right.It is an emetic prospect of Putin glorying in this sporting event.
Johnson omitted certain facts.For one Russia boycotted the 1936 Olympics while the UK didn't.Also during a soccer game in the 1930s between the UK and Germany,the UK soccer team gave Hitler the Nazi salute.
POLL:PEOPLE IN DEMOCRATIC COUNTRIES PERCEIVE THEIR COUNTRIES AS NOT DEMOCRATIC
More than half of the people living in democracies worldwide think their voice is "rarely" or "never" heard in politics,according to a new study published Thursday.
Some 54 percent of citizens in democracies believe their voice doesn't have an impact on political decisions and 64 percent think their government doesn't act in their interest,Democracy Perception Index 2018-a survey conducted by Dalia Research, Alliance of Democracies and Rasmussen Global found.
"Political systems around the world are currently changing with a speed that we haven't seen in almost 30 years," Nico Jaspers,CEO and co-founder of Dalia Research, said. "Right now the biggest risk for democracies is that the public no longer sees them as democratic."
Public disillusionment with democracy is higher in countries deemed democratic (64 percent),than in non-democratic nations (41 percent),according to the poll,which surveyed 125,000 respondents in 50 countries worldwide between June 6 and June 18.
Nine of the 10 worst-performing countries when it comes to "political voice" :the perception among citizens that their voice matters" are all democracies:Japan,Poland,France,Austria,Portugal,Norway,Germany,Netherlands and Belgium.
Researchers noted that citizens in democratic countries may be "inherently more critical of their government" than those living in non-democratic societies,but added that "perception is often as important as reality."
The survey also found that 56 percent of respondents worldwide claimed the news "rarely" or "never" gives them a "neutral" account of world events and 46 percent said they "rarely" or "never" feel free to share their political opinions.
"Democratic systems of governance are under severe threat, not only from foreign interference and the rise of autocratic regimes,but also from the huge crisis of confidence amongst the electorate," Nina Schick, director of data and polling at Rasmussen Global,said.
THE SKRIPAL CASE:PURELY WESTERN PROPAGANDA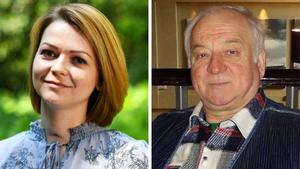 On March 4.2018,Sergei Skripal,a former Russian military officer and double agent for the UK's intelligence services and his daughter Yulia Skripal were allegedly poisoned in Salisbury,England, with what the UK government claims to be Novichok nerve agent known as A-234.After three weeks in a critical condition,it is alleged Yulia regained consciousness and was able to speak.She was discharged on April 9,2018.Sergei was also allegedly in a critical condition until he regained consciousness one month after the attack.He was discharged from hospital on May 18,2018.
Allegedly a police officer was also taken into intensive care after being contaminated when he went to Sergei Skripal's house.By March 22 he had recovered enough to leave the hospital.Ir is also alleged an additional 48 people sought medical advice after the attack,but none required treatment.
In the 1990s,Sergei Skripal was an officer for Russia's Main Intelligence Directorate (GRU) and worked as a double agent for the UK's Secret Intelligence Service from 1995 until his arrest in Moscow in December of 2004.In August 2006,he was convicted of high treason and sentenced to 13 years in a penal colony by a Russian court.He settled in the UK in 2010 following the Illegals Program spy swap.Sergei holds dual Russian and British citizenship;Yulia is a Russian citizen and was visiting her father from Moscow.
Later in March,the British government accused Russia of attempted murder and announced a series of punitive measures against Russia, including the expulsion of diplomats.The UK's official assessment of the incident was supported by 28 other countries which responded similarly. Altogether,an unprecedented 153 Russian diplomats were expelled.Russia denied the accusations and responded similarly to the expulsions and "accused Britain of the poisoning."
On June 30,2018 a similar poisoning of two British nationals in Amesbury,seven miles (11 kms.) from Salisbury,allegedly involved the same nerve agent.A man found the nerve agent in a perfume bottle and gave it to a woman who sprayed it on her wrist.The woman,Dawn Sturgess,fell ill within 15 minutes and died on July 8,but the man who also came into contact with the poison survived.British police believe this incident was not a targeted attack,but a result of the way the nerve agent was disposed of after the poisoning in Salisbury.
On September 5,2018,British authorities identified two Russian nationals,using the names Alexander Petrov and Ruslan Boshirov,as suspected of the Skripals' poisoning and alleged that they were active officers in Russian military intelligence.In response,on September 13 the two men were interviewed on Russian television where they claimed they were businessmen and tourists visiting the city.The media commented afterwards upon inconsistencies in their descriptions.For example the claim to have planned a holiday long in advance whereas their flights were actually booked "at the last minute", and the brevity of their visit.Their passports were also described as being false covers, issued for the first time in 2009 with very similar numbers,no previous record of existence and in one case,markings indicating military or other undercover or secret service use.
On September 26,2018,investigative website Bellingcat published a statement that it had positively identified the man known as Ruslan Boshirov as the highly decorated GRU Colonel Anatoliy Chepiga.It noted that there had been unusually little published information on Chepiga,given that he had received a rarely bestowed award of Hero of the Russian Federation,an award personally given by president Vladimir Putin and that the evidence available suggested Chepiga was active in covert operations.The statement also provided details of Chepiga's previous service and awards and concluded that the use of a full colonel on the Salisbury mission,whom Putin knew personally,indicated that the assassination had been ordered "at the highest level".
On October 8,2018,Bellingcat revealed the real identity of the suspect named by police as Alexander Petrov to be Dr. Alexander Mishkin,following up with a more detailed report the following day.
The curious case of the poisoning of Sergei and Yulia Skripal in Salisbury continues to puzzle me.So let's get the key,undisputed facts down and approach it logically, without fear or favor and see what conclusions we come to...
Here are fifteen facts in relation to the Salisbury poisonings case:
1. We haven't seen any photographs or heard anything from Sergei Skripal since March 4.The last confirmed images we have of Skripal is CCTV footage of him in a shop in Salisbury at 12.47 P.M. on February 27.We haven't seen Yulia Skripal,Sergei's daughter since a short video statement featuring her was released on May 23.
2. Investigative website Bellingcat contends that the two suspects identified by the police and traveling under the names Ruslan Boshirov and Alexander Petrov,are in fact Anatoliy Chepiga,a highly decorated colonel from Russian military intelligence and Alexander Mishkin, a doctor working for Russian military intelligence.
3. We haven't seen any CCTV footage of the Skripal's house on March 4th,or of the Skripals on the bench where they were found at around 4.15 P.M.
4. They have seen CCTV footage,timed at 11.58 AM,of the two suspects walking along Wilton Road in an opposite direction to Salisbury Cathedral (which they claim to have come to Salisbury to visit),and in the direction of the Skripals house.
5. The football World Cup was held in Russia this summer for the first time.There was an anti-Russian neocon campaign in the west to undermine the event,calling for boycotts and fans not to travel there.
6. On Tuesday,March 6,two days after the Skripals were taken ill,arch-Putin critics Bill Browder and Ed Lucas were due to address British Parliamentarians on 'fake news'.They were expected to make the case for tougher measures to be taken against Russia and Russian media.
7. Anatoliy Chepiga has not,as yet, come forward to identify himself as being a different person from Ruslan Boshirov.
8. Detective Sergeant Nick Bailey,who was one of the first on the scene at the bench and who subsequently became ill,has not been interviewed by any news media, since being released from the hospital on March 22.
9. The weather in and around Salisbury on the weekend of 2-4th March was inclement. It included heavy snow,strong winds and freezing rain.There were significant transport disruptions in southern England.
10. The UK authorities believe that nerve agent novichok was sprayed by the two suspects on the Skripals front door knob at around noon on March 4.
11. The two suspects were captured on CCTV exiting Salisbury railway station at 11.48am and then entering the station at 1.50pm,just over two hours later.
12. We have seen no evidence that the Skripals returned home having been seen on CCTV at around 9.15 AM out in their car in Salisbury.
13. The suspects have not been charged in connection with the death of Dawn Sturgess, who were are,told died from novichok poisoning having used perfume from a bottle discarded by the two men in a skip and given to her by her partner.
14. In a letter to "The Times" on March 14, Dr. Stephen Davies, Consultant in Emergency Medicine at the Salisbury NHS Foundation Trust wrote:'May I clarify that no patients have experienced symptoms of nerve agent poisoning in Salisbury and there have only ever been three patients with significant poisoning "No member of the public has been contaminated by the agent involved".
15. Eyewitness Freya Church,who saw the Skripals in on the bench,told the BBC: "He was doing some strange hand movements,looking up to the sky".They looked like they had been taking something quite strong'.
Have a think about those fifteen pieces of factual information for a moment.What conclusions do you draw from them?
Well,here's mine.
1. Ruslan Boshirov and Alexander Petrov were in Salisbury for a reason which they did not want to disclose in their television interview on RT.It is looking increasingly likely that both men were Russian intelligence officers.Fact 7,suggests that Boshirov is Chepiga.if not,why hasn't Chepiga come forward?
2. The absence of any interviews with,or statements from, Sergei Skripal indicates that he does not believe the UK government narrative that the Russian state was behind his poisoning.Last week,it was revealed that Skripal was indeed reluctant to believe that Russia was responsible.But surely Skripal would have a good idea of who did the act? If 'Chepiga' and 'Mishkin' had done the poisoning, and Skripal and his daughter had met them that fateful Sunday, why isn't he saying so, in a video address?
3. The fact that the World Cup was due to be held in Russia and that Browder and Lucas were to address Parliament that very week (and this was publicized in advance on social media),makes it most unlikely that the Russian state would authorize the assassination of Sergei Skripal on the weekend of 2-4th March 2018 UNLESS Skripal was about to do something very soon to endanger Russian security.But what could that be,considering he hadn't been in Russia for many years and was not privy to any new secrets" If 'revenge' against a former spy who had betrayed his country had been the motive,then the operation would surely have been done before or at least postponed until after the World Cup.In fact,from a Kremlin perspective,there could not have been a worse weekend to carry out the operation,especially if we take into account the wintry weather which would make getting to Salisbury problematic-and smearing a doorknob with novichok as an assassination technique unlikely to be fully effective because of the precipitation.
4. The absence of CCTV footage of the suspects approaching the Skripals' house or doing anything suspicious in Salisbury (apart from walking in the wrong direction from the cathedral),suggests that such footage does not exist.If it does,why hasn't it been shown?
5. The lack of evidence to show that the Skripals returned home after leaving their house before 9.15 am suggests that novichok was not placed on the front door knob and that they were poisoned elsewhere.If the Skripals had returned home,then poisoning their doorknob in broad daylight would have been extraordinarily risky-but if they didn't go back, how were they affected by a sprayed doorknob?
Novichok is supposed to be fast acting and lethal,so the likeliest places they were poisoned were either in the pub,the restaurant (with someone possibly dropping poison into their food or drink,as security expert Will Geddes suggested in this report,or on the bench itself.The restaurant seems more likely as an eyewitness told the BBC that Sergei Skripal had been behaving strangely there.
'He started screaming. He just didn't look right'.Some have said this is because he may have spotted Borishov and Petrov through a window.But how could he,if the pair had already entered Salisbury station to make their journey back to London at 1.50pm. The Skripals entered the restaurant after 2.20pm.So where do these conclusions lead us,in regards to solving the mystery?
The 'official' explanation of the UK government is that the two suspects were Russian hitmen who came to Salisbury to assassinate Skripal but who botched their assignment because for some reason they didn't use a strong enough dose/and/or the excellence/quickness of the emergency services and Salisbury hospital.But if men were the poisoners,why the lack of CCTV footage of them approaching the Skripals house-and why did they carry out their operation on the weekend of 2nd-4th March? If Russian culpability was so obvious,why have the UK authorities sought to censor,via two DSMA notices,MSM reporting of the case?
The timing suggests that if the men were indeed Russian agents,their mission did not have high-level Kremlin approval,as claimed.
Could they then have been part of a group within Russian intelligence who were fed up with western 'bear-baiting' and who actually wanted relations between Russia and the west to deteriorate further in order to bring matters to a head?
Or might they even be double agents,actually working for the west?If they were an assassination squad out to smear a doorknob with novichok,then why did they come to Salisbury twice in broad daylight and not at night?
Why did they come together,and arrive in Salisbury so openly,on public transport? Two possible inferences are (a) the men were bungling Mr. Bean-style incompetents-which doesn't tally with Chepiga being a highly decorated colonel in military intelligence,or (b) they didn't mind being found out and actually wanted to be. If that sounds plausible,here's another explanation which ticks all the boxes.
The two suspects were indeed Russian military intelligence operatives.Bellingcat, for all the concerns we have about founder Elliot Higgins' links to The Atlantic Council,are actually right about this.
But the two men didn't travel to Salisbury to kill Skripal but to meet with him, negotiate with him, or conduct some kind of business with him.The Skripals weren't poisoned via their front doorknob,but in the pub or restaurant or on the bench itself-at a time when the two suspects had already left Salisbury.
The reason we haven't seen the CCTV footage is that it does not incriminate 'Boshirov' and 'Petrov'.Novichok didn't kill the Skripals because novichok wasn't used.The aim was to simulate a novichok attack,as a provocation to blame Russia by a geopolitical adversary,but not to kill the Skripals.Those behind the provocation knew that two Russian agents were in town that weekend to do business with Skripal so it was perfect timing.The Skripals were poisoned with the synthetic drug fentanyl (or fentanyl mixed with small traces of novichok).
Remember,fentanyl poisoning is what the hospital originally treated them for, before the government's own laboratory at nearby Porton Down said it was novichok on March 7. Read again the words of Dr. Stephen Davies-and also bear in mind what eyewitness Freya Church said: 'They looked like they had been taking something quite strong'.As for small traces of novichok being found in the suspects' hotel room on May 4,this could indeed have been left by them, but it also could quite easily have been planted later on by an intelligence operative of a power hostile to Russia, staying in the room as a 'guest', before the police went there.
Of course,this is only a theory and it could be wrong,but it is one that is consistent with the facts as we currently know them. It would explain why we haven't heard from Sergei Skripal. It would explain the DSMA Notices and the fact that Dt Sgt Nick Bailey-who surely has a lot to tell about what happened on March 4, has not been interviewed.It would explain the fact that we haven't seen more CCTV footage.
It would also explain why Russia has had to deny the two named suspects were agents because if they admitted they were agents and in Salisbury on the day of the poisoning,but had nothing to do with it,no one would believe them.
Lovers of detective fiction-and indeed those who follow real-life crime stories will know that there have been lots of examples of 'suspicious' characters who happened to be near a crime scene and were there for a reason which they did not want to reveal-but who did not actually carry out the crime.
Nine months on, it still remains up to those accusing the Kremlin to prove their case.
SERIAL NUMBERS OF MISSLE THAT DOWNED MH17 IN 2014 SHOW IT WAS PRODUCED IN 1986,OWNED BY UKRAINE
On September 17 the Russian Minister of Defense stated that the serial numbers found on debris of the Buk missile which downed Malaysian Airlines Flight MH17 over eastern Ukraine show that it was produced in 1986.The projectile was owned by Ukraine,they added.There are two serial numbers found on fragments of the missile,which shot down the passenger airliner in July 2014 according to an international team of investigators led by the Netherlands.The numbers were marked on the engine and the nozzle of the missile.
The Russian military said they had traced them to a missile which had the producer serial number 8868720.Speaking to journalists,Gen. Nikolay Parshin showed a document trail of the Buk missile.According to the documents,some of which have been declassified for the presentation,it was produced at a military plant in Dolgoprudny in the Moscow region in 1986.The missile was shipped from the plant on December 29,1986 and delivered to military unit 20152 located in what is now Ukraine.It is now called 223rd anti-aircraft defense regiment of the Ukrainian armed forces,the report said.The unit took part in Kiev's crackdown on rebels in eastern Ukraine in June 2014,the general said.
The evidence disproves the accusations by Ukraine and some other parties,which claim that a missile fired by a launcher,secretly delivered from Russia,was responsible for the downing of MH17,the Ministry of Defense report said. All the materials have been sent to the Dutch investigators,the Russian military added.
The Russian military also challenges video footage used by the UK-based group Bellingcat,which calls itself a citizen journalism organization,to back its allegations about the delivery of the Buk launcher from Russia.The Defense Ministry showed a video clip with some of the footage,highlighting inconsistencies,which it said proved that the footage had been manipulated to place images of the launcher into background which were not in the original.
The Bellingcat investigation was featured in the latest update by Dutch prosecutors involved in the MH17 investigation,prompting them to directly accuse Russia of providing the launcher and the missile.The Russian military said it decided after this to study the purported trail of photo and video evidence showing the path of the launcher in detail. The Russian video showed an example of how an Abrams tank can be shown to be carried by a trailer in the streets of Ukraine in the same way.
The third part of the presentation was what the Russian officials called a record of intercepted communications of Ukrainian officials discussing, in 2016,the risk of flying through restricted airspace over Ukraine.Among a barrage of complaints one phrase says unless the restrictions are respected "we'll f***ing f**k up another Malaysian Boeing".
The Russian military say the complaints came from Col. Ruslan Grinchak,who serves in a brigade responsible for radar control in Ukrainian airspace.His unit tracked the MH17 flight in 2014, so he may have information which is not publicly available about the disaster, and his outburst may have been factual rather than hyperbolic,they suggested.
Gen. Igor Konashenkov,who hosted the briefing,said that Ukraine failed to provide radar data from its stations to the Dutch investigators.He also suggested that archive documents from the Ukrainian unit,which received the Buk missile back in 1986,would be of use to the probe,unless Kiev claims that they are no longer available.He stressed rules are in place which mean that such documents should still be stored in Ukraine.
The Russian military said they had no evidence to disprove a scenario,involving the Ukrainian rebels capturing the missile from the Ukrainian army,but pointed out that Ukrainian officials publicly denied anything like this had ever happened.
Malaysian Airlines flight MH17 was shot down over eastern Ukraine on July 17, 2014,falling in the rebel-held part of the country.The crash claimed the lives of 283 passengers and 15 crew members,most of them Dutch nationals.Russia was blamed by Western media in the first days after the tragedy,even before any evidence had been collected on the ground.
The Joint Investigation Team,which is lead by the Netherlands,includes Ukraine,but not Russia.Moscow believes that the investigation is biased,failing to obtain all necessary evidence from Ukraine and relying on questionable sources while ignoring evidence provided by Russia,which doesn't fit the theory favored by Kiev.
For instance,Moscow said a theory was never tested that the airliner could have been downed by a fighter jet spotted by Russian radar stations near flight MH17.The theory was later proven false by the discovery of debris from the Buk rocket.
WE HAVE 12 YEARS TO LIMIT CLIMATE CHANGE CATASTROPHE,WARNS UN
On October 8 the world's leading climate scientists have warned there is only a dozen years for global warming to be kept to a maximum of 1.5C,beyond which even half a degree will significantly worsen the risks of drought,floods,extreme heat and poverty for hundreds of millions of people.
The authors of the landmark report by the UN Intergovernmental Panel on Climate Change (IPCC) released on October 8 say urgent and unprecedented changes are needed to reach the target,which they say is affordable and feasible although it lies at the most ambitious end of the Paris agreement pledge to keep temperatures between 1.5C and 2C.
The half-degree difference could also prevent corals from being completely eradicated and ease pressure on the Arctic,according to the 1.5C study,which was launched after approval at a final plenary of all 195 countries in Incheon in South Korea that saw delegates hugging one another, with some in tears.
"It's a line in the sand and what it says to our species is that this is the moment and we must act now," said Debra Roberts, a co-chair of the working group on impacts. "This is the largest clarion bell from the science community and I hope it mobilises people and dents the mood of complacency."
Policymakers commissioned the report at the Paris climate talks in 2016,but since then the gap between science and politics has widened.Donald Trump has promised to withdraw the US "the world's biggest source of historical emissions" from the accord.
The world is currently 1C warmer than preindustrial levels. Following devastating hurricanes in the US,record droughts in Cape Town and forest fires in the Arctic,the IPCC makes clear that climate change is already happening,upgraded its risk warning from previous reports, and warned that every fraction of additional warming would worsen the impact.
Scientists who reviewed the 6,000 works referenced in the report,said the change caused by just half a degree came as a revelation."We can see there is a difference and it's substantial," Roberts said.
At 1.5C the proportion of the global population exposed to water stress could be 50% lower than at 2C, it notes. Food scarcity would be less of a problem and hundreds of millions fewer people, particularly in poor countries,would be at risk of climate-related poverty.
At 2C extremely hot days,such as those experienced in the northern hemisphere this summer, would become more severe and common,increasing heat-related deaths and causing more forest fires.
But the greatest difference would be to nature. Insects, which are vital for pollination of crops, and plants are almost twice as likely to lose half their habit at at 2C compared with 1.5C.Corals would be 99% lost at the higher of the two temperatures,but more than 10% have a chance of surviving if the lower target is reached.
Sea-level rise would affect 10 million more people by 2100 if the half-degree extra warming brought a forecast 10cm additional pressure on coastlines.The number affected would increase substantially in the following centuries due to locked-in ice melt.
Oceans are already suffering from elevated acidity and lower levels of oxygen as a result of climate change. One model shows marine fisheries would lose 3m tonnes at 2C,twice the decline at 1.5C.
Sea ice-free summers in the Arctic, which is warming two to three times faster than the world average, would come once every 100 years at 1.5C, but every 10 years with half a degree more of global warming.
Time and carbon budgets are running out. By mid-century, a shift to the lower goal would require a supercharged roll-back of emissions sources that have built up over the past 250 years.
The IPCC maps out four pathways to achieve 1.5C, with different combinations of land use and technological change. Reforestation is essential to all of them as are shifts to electric transport systems and greater adoption of carbon capture technology.
Carbon pollution would have to be cut by 45% by 2030-compared with a 20% cut under the 2C pathway" and come down to zero by 2050, compared with 2075 for 2C. This would require carbon prices that are three to four times higher than for a 2C target. But the costs of doing nothing would be far higher.
"We have presented governments with pretty hard choices. We have pointed out the enormous benefits of keeping to 1.5C, and also the unprecedented shift in energy systems and transport that would be needed to achieve that," said Jim Skea, a co-chair of the working group on mitigation. "We show it can be done within laws of physics and chemistry. Then the final tick box is political will.We cannot answer that.Only our audience can "and that is the governments that receive it."
He said the main finding of his group was the need for urgency. Although unexpectedly good progress has been made in the adoption of renewable energy,deforestation for agriculture was turning a natural carbon sink into a source of emissions.Carbon capture and storage projects, which are essential for reducing emissions in the concrete and waste disposal industries, have also ground to a halt.
Reversing these trends is essential if the world has any chance of reaching 1.5C without relying on the untried technology of solar radiation modification and other forms of geo-engineering, which could have negative consequences.
In the run-up to the final week of negotiations, there were fears the text of the report would be watered down by the US, Saudi Arabia and other oil-rich countries that are reluctant to consider more ambitious cuts. The authors said nothing of substance was cut from a text.
Bob Ward,of the Grantham Research Institute on Climate Change, said the final document was "incredibly conservative" because it did not mention the likely rise in climate-driven refugees or the danger of tipping points that could push the world on to an irreversible path of extreme warming.
The report will be presented to governments at the UN climate conference in Poland at the end of this year. But analysts say there is much work to be done,with even pro-Paris deal nations involved in fossil fuel extraction that runs against the spirit of their commitments. Britain is pushing ahead with gas fracking,Norway with oil exploration in the Arctic, and the German government wants to tear down Hambach forest to dig for coal.
At the current level of commitments, the world is on course for a disastrous 3C of warming. The report authors are refusing to accept defeat,believing the increasingly visible damage caused by climate change will shift opinion their way.
"I hope this can change the world," said Jiang Kejun of China's semi-governmental Energy Research Institute, who is one of the authors."Two years ago, even I didn't believe 1.5C was possible but when I look at the options I have confidence it can be done. I want to use this report to do something big in China."
The timing was good, he said, because the Chinese government was drawing up a long-term plan for 2050 and there was more awareness among the population about the problem of rising temperatures. "People in Beijing have never experienced so many hot days as this summer. It's made them talk more about climate change."
Regardless of the US and Brazil,he said, China,Europe and major cities could push ahead. "We can set an example and show what can be done.This is more about technology than politics."
James Hansen, the former Nasa scientist who helped raised the alarm about climate change,said both 1.5C and 2C would take humanity into uncharted and dangerous territory because they were both well above the Holocene-era range in which human civilization developed. But he said there was a huge difference between the two:"1.5C gives young people and the next generation a fighting chance of getting back to the Holocene or close to it. That is probably necessary if we want to keep shorelines where they are and preserve our coastal cities."
Johan Rockstrom,a co-author of the recent Hothouse Earth report, said scientists never previously discussed 1.5C, which was initially seen as a political concession to small island states. But he said opinion had shifted in the past few years along with growing evidence of climate instability and the approach of tipping points that might push the world off a course that could be controlled by emissions reductions.
"Climate change is occurring earlier and more rapidly than expected. Even at the current level of 1C warming, it is painful," he told the Guardian. "This report is really important. It has a scientific robustness that shows 1.5C is not just a political concession. There is a growing recognition that 2C is dangerous."
ASSASSINATION 0F JAMAL KHASHOGGI-"I CAN'T BREATHE"
The assassination of Jamal Khashoggi,a Saudi dissident,journalist for The Washington Post and former general manager and editor-in-chief of Al-Arab News Channel, occurred on October 2,2018 at the Saudi consulate in Istanbul,Turkey and was perpetrated by agents of the Saudi Arabian government.The exact cause of his death is unknown since his body has never been located or examined.Government officials of several countries,including Saudi Arabia,Turkey,the United Kingdom,France and Germany believe Khashoggi was murdered.Turkey in particular believes it was premeditated murder and anonymous Saudi officials have admitted that agents affiliated with the Saudi government killed him.
Khashoggi had entered the consulate in order to obtain documents related to the marriage he and his fiance were planning.Because no security camera footage of him exiting the building could be found,he was declared a missing person amid news reports claiming that he was assassinated and dismembered inside the consulate.[When the disappearance of Khashoggi was first reported by the news media,Saudi Arabia claimed he had left the consulate and denied having any knowledge about his fate.Turkish media published evidence suggesting that Khashoggi never came out of the consulate.Saudi Arabia subsequently denied any involvement in his disappearance.
The international community called for accountability of those responsible for the killing and more clarity on the case from Saudi authorities.Meanwhile,the Turkish authorities reported various facts to news media from the ongoing investigation of the case that refuted Saudi claims.Saudi Arabia was placed under unprecedented scrutiny and economic and political pressure from the international community to disclose the facts.An inspection of the consulate,by Saudi and Turkish police,took place on October 15.Turkish prosecutors reported they found evidence of tampering during the inspection and evidence that supported the belief that Khashoggi had been killed.18 days later the Saudi government changed their position from no involvement and admitted that Khashoggi died inside the consulate due to strangulation after an argument and fistfight.Saudi Arabia's foreign minister called it a "rogue operation".
Eighteen Saudis were arrested,including the team of 15 operatives which an anonymous Saudi official claimed General Ahmad Asiri sent to confront Khashoggi and,if necessary,detain him for return to Saudi Arabia.On October 19 the Saudi prosecutor stated that the Saudi-Turkey joint team of investigators found evidence indicating the suspects acted with premeditated intent.The Saudi Royal family have denied ordering or sanctioning the killing.On October 31,Istanbul's chief prosecutor released a statement stating that Khashoggi had been strangled as soon as he entered the consulate building, and that his body was dismembered and disposed of.
Turkish officials released an audio recording of Khashoggi's killing (his last words were the same as Eric Garner's "I Can't Breathe") they alleged contained evidence that Khashoggi had been assassinated on the orders of Saudi Crown Prince Mohammed bin Salman.Several days later,on November 16,2018,Central Intelligence Agency members who internally analyzed multiple sources of intelligence concluded that Saudi Crown Prince Mohammed bin Salman ordered Khashoggi's assassination.On November 20.2018, US President Donald Trump disputed the CIA assessment and stated that the investigation into Khashoggi's death had to continue.
On November 15,2018,the Saudi prosecutor's office said eleven Saudi nationals had been indicted and charged with murdering Khashoggi and that five of them would face the death penalty,since it had been determined they were directly involved in "ordering and executing the crime". It alleged that shortly after Khashoggi entered the Saudi Consulate in Istanbul,he was bound and then injected with a fatal sedative overdose.His body was dismembered and removed from the consulate by five suspects and given to a local collaborator for disposal.Saudi officials continued to deny that the Saudi Royal Family was involved in,ordered,or sanctioned the killing.
Germany,Norway and Denmark have stopped the sale of arms to Saudi Arabia over the incident and Canada is considering freezing its arms deal.
However,it is very hypocritical it is clear that Skripal who never dies has the US and UK imposing sanctions on Russia while it has been clearly established that Khashoggi was brutally murdered by the highest echelons of the government of Saudi Arabia and the US and UK turn a blind eye.
On December 11,2018,Jamal Khashoggi was named Time Magazine's person of the year for his work in journalism along with other journalists who faced politcal persecution for their work.Time Magazine referred to Khashoggi as a "Guardian of the Truth".
On December 11,2018, Jamal Khashoggi was named Time Magazine's person of the year for his work in journalism along with other journalists who faced politcal persecution for their work.Time Magazine referred to Khashoggi as a "Guardian of the Truth".
RUSSIAN SHIPS STOP & SEIZE UKRAINIAN VESSELS VIOLATING TERRITORIAL
WATERS
On Sunday, November 25.2018 Russia confirmed its vessels have used weapons to stop Ukrainian ships that had entered Russian waters in the Black Sea illegally.Three Ukrainian sailors were wounded and had been given medical assistance.
The Ukrainian vessels were sailing between two Ukrainian ports:from Odessa in the Black Sea to Mariupol in the Azov Sea.The only waterway that connects the two is the Kerch Strait between Crimea and mainland Russia.Kiev says it had notified Moscow in advance that its navy ships would be sailing through the area. Moscow denies it had been given the warning.
While both Russia and Ukraine have freedom of navigation in the Kerch Strait under a 2003 treaty,there are detailed technical rules on how vessels should pass through the narrow,complex waterway. Because all traffic in the area is controlled by the Crimean sea port of Kerch,every ship should contact the facility,report her route and destination and receive permission to sail through the Strait.
The three Ukrainian vessels:the "Berdiansk", the "Nikopol" and the "Yany Kapu" were ignoring "legal demands to stop" and "performing dangerous maneuvers," and the Russian warships had to open fire to force them to stop, the FSB says.The ships were then seized and towed to the Crimean port of Kerch.
Three Ukrainian sailors,injured in the altercation,were given medical assistance by Russian servicemen. Their lives are out of danger.Russia launched a criminal investigation of the border breach.
Following the clash at sea,Ukrainian President Petro Poroshenko proposed to declare martial law in the country.The proposal had been approved by the Ukrainian National Security Council, and was approved by the Ukrainian parliament on November 26.
On Tuesday,November 27 Russia's FSB released a video of a detained Ukrainian naval officer claiming responsibility for the incident on the Black Sea which is pushing Ukraine and Russia toward the brink of war.The sailor,who appears to be reading form a script,says he provoked the Russian navy into firing on his ship.
Also on November 27 a court in Crimea ordered the first of 24 Ukrainian navy sailors captured by Russia to be detained for two months.
Russia also seized two small Ukrainian armored artillery vessels and a tug boat which Moscow said had illegally entered Russia's territorial waters.
It is rather hilarious how the western media is reporting this story.They are claiming Russia had committed an act of aggression. Although,Ukrainian ships with heavy artillery were entering Russian waters.I wonder if Chinese or Russian ships with heavy artillery were entering Boston harbor would CNN call the USA the aggressor.
YELLOW VESTS MOVEMENT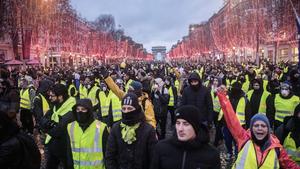 The yellow vests movement is a political movement that started online in May 2018 and led to demonstrations that began in France on November 17,2018 and rapidly spread to Wallonia,Belgium killing eight people.Motivated by rising fuel prices,the high cost of living and claims that a disproportionate burden of the government's tax reforms were falling on the working and middle classes,especially in rural and peri-urban areas, protesters have called for reductions in fuel taxes,the reintroduction of the solidarity tax on wealth,the raising of the minimum wage and the resignation of Emmanuel Macron as President of France.
The movement's leaders chose the yellow vest as a symbol because,since 2008,a law has required all French motorists to have high-visibility vests in their vehicles.As a result,reflective vests were widely available,inexpensive and symbolic.By early December 2018,the symbol had become increasingly common from Europe to Iraq,as different groups made use of their high-visibility vests to draw attention to their agendas.
On December 14 the movement spread to Tel Aviv.Remember the French people rule the country not the government."Let them eat cake".
See:https://www.timesofisrael.com/yellow-vest-protests-reach-israel-as-hundreds-demonstrate-in-tel-aviv/
OBITUARIES:WHO DIED IN 2018
JANUARY
05 Jerry Van Dyke-American actor and comedian (My Mother The Car,The Dick Van Dyke Show,Coach),heart failure.-age 86
11 Edgar Ray Killen-92,American Ku Klux Klan leader and convicted murderer.-age 92
12 Sir Keith Speed-British politician, MP (1968-1974,1974-1997),Navy Minister (1979-1981).-age 83
14 Cecil Hoekstra-Canadian ice hockey player (Montreal Canadiens).-age 82
15 Dick King-American politician, member of the Washington House of Representatives (1965-1994).-age 83
16 Harold Rosen-American politician,Mayor of Miami Beach, Florida (1974-1977).-age 92
17 Simon Shelton-British actor (Teletubbies,Incredible Games),hypothermia.-age 52
20 Jim Rodford-English bassist (Argent,The Kinks,The Zombies),injuries from a fall.-age 76
23 Hugh Masekela-South African jazz trumpeter ("Grazing in the Grass","Bring Him Back Home") and composer,prostate cancer.-age 78
25 Steve Foster-Australian singer-songwriter,lung cancer.-age 71
26 Buzz Clifford-American singer ("Baby Sittin' Boogie") and songwriter,complications of influenza.-age 75
27 Jerry Butler-American pornographic actor,cancer.-age 58
30 Mark Salling-American actor (Glee) and musician, suicide by hanging.-age 35
31 Leah LaBelle-Canadian-born American singer (American Idol), traffic collision.-age 31
FEBRUARY
01 Dennis Edwards-American Hall of Fame soul and R&B singer (The Contours,The Temptations),complications from meningitis.-age 74
06 Muhiyidin Moye-American political activist (Black Lives Matter), shot.-age 32
07 Pat Torpey-American drummer (Mr. Big), complications from Parkinson's disease..age-64
09 John Gavin-American actor (Psycho,Spartacus,Imitation of Life) and diplomat, Ambassador to Mexico (1981-1986),pneumonia.-age 86
10 Troy Blakely-American music executive and talent manager (Sammy Hagar,Red Hot Chili Peppers,Poison),cancer.-age 68
11 Vic Damone-American pop singer ("On the Street Where You Live", "You're Breaking My Heart") complications from respiratory illness.-age 89
12 Rudy Regalado-American baseball player (Cleveland Indians).-age 87
15 Lassie Lou Ahern-American actress (Our Gang,Uncle Tom's Cabin),complications from influenza.-age 97
21 Billy Graham-American evangelist and Southern Baptist minister.-age 99
25 Noel Scott-New Zealand politician, MP for Tongariro (1984-1990).-age 88
26 Peter Miles-English actor (Z-Cars, Doctor Who, Blake's 7)-age 89
27 Jacqueline Vaudecrane-French figure skater.-age 104
28 Noble Villeneuve-Canadian politician, MPP (1983-1999).-age 79
MARCH
01 Beth Morris-Welsh actress (Son of Dracula).-age 74
02 Billy Herrington-American gay pornographic actor, traffic collision.-age 48
03 Alva Campbell-American convicted murderer.-age 69
06 Donna Butterworth-American actress (Paradise,Hawaiian Style,The Family Jewels) and singer.-age 62
08 Antoni Imiela, 63, German-born British serial rapist.-age 63
10 Donald Collins-American politician,member of the Maine Senate (1976-1992) and House of Representatives (1970-1976).-age 92
12 Craig Mack-American rapper ("Flava in Ya Ear"), heart failure.-age 47
14 Stephen Hawking-English theoretical physicist,professor (University of Cambridge) and writer (A Brief History of Time),amyotrophic lateral sclerosis.-age 76
16 Aidan Maloney-Canadian politician, MHA for Ferryland (1966-1971).-age 97
18 Killjoy-American singer (Necrophagia).-age 48
19 Linda Bement-American model,winner of Miss Universe 1960..-age 76
20 Peter "Mars" Cowling-British bassist (Pat Travers Band).-age 72
21 Anna-Lisa-Norwegian actress (Black Saddle,Have Rocket,Will Travel).-age 84
22 Morgana King-American jazz singer and actress (The Godfather),non-Hodgkin's lymphoma.-age 87
23 DuShon Monique Brown-American actress (Chicago Fire,Prison Break,Unexpected), sepsis.-age 49
25 Mike Harrison-British singer (Spooky Tooth).-age 72
27 Stephane Audran-French actress (The Discreet Charm of the Bourgeoisie,Babette's Feast,The Big Red One).-age 85
30 Alias-American rapper,producer and record label founder (Anticon),heart attack.-age 41
APRIL
04 Don Cherry-American singer ("Band of Gold") and golfer.-age 94
05 Tim O'Connor-American actor (Peyton Place,General Hospital,Buck Rogers in the 25th Century),cancer.-age 90
08 Chuck McCann-American voice actor (DuckTales,G.I. Joe:A Real American Hero,Fantastic Four),heart failure.-age 83
15 Vittorio Taviani-Italian film director (Padre Padrone,Kaos,Caesar Must Die).-age 88
17 Barbara Bush-American political matriarch,First Lady (1989-1993 complications from COPD and heart failure.-age 92
20 Avicii-Swedish electronic musician,DJ and record producer ("Wake Me Up", "Hey Brother", "Levels"),suicide by exsanguination.-age 28
25 Kato Khandwala-American record producer (My Chemical Romance,Breaking Benjamin,Papa Roach),injuries sustained in traffic collision.-age 47
30 Tim Calvert-American rock guitarist (Nevermore,Forbidden),amyotrophic lateral sclerosis.-age 52
MAY
01 Robert B. Kennedy-American politician,member of the Massachusetts House of Representatives (1975-1979) and Governor's Council (1989-1995),Mayor of Lowell (1986-1987).-age 78
05 Roy Wright-American baseball player (New York Giants).-age 84
08 Larry Leach-Canadian ice hockey player (Boston Bruins).-age 81
09 Tom Fletcher-American baseball player (Detroit Tigers).-age 75
11 Viktor Shamburkin-Russian sport shooter, Olympic gold medalist (1960).-age 86
13 Margot Kidder-Canadian-American actress (Superman,The Amityville Horror,Black Christmas) and activist,suicide by overdose.-age 69
18 Stephanie Adams-American model (Playboy, Clairol, Venus Swimwear) and author, suicide by jumping.-age 47
21 Clint Walker-American actor (Cheyenne,The Dirty Dozen,Small Soldiers),heart failure.-age 90
JUNE
08 Eunice Gayson-British actress (Dr. No,From Russia with Love,The Revenge of Frankenstein).-age 90
12 Jon Hiseman-English drummer (Colosseum,Colosseum II,John Mayall & the Bluesbreakers), brain cancer.-age 73
13 D. J. Fontana-American Hall of Fame rock drummer (Elvis Presley).-age 87
15 Matt Murphy-American guitarist (The Blues Brothers).-age 88
18 XXXTentacion-American rapper ("Look at Me", "Jocelyn Flores", "Sad!"), shot.-age 20
22 Deanna Lund-American actress (Land of the Giants),pancreatic cancer.-age 81
24 Dan Ingram-American disc jockey (KBOX,WABC,WCBS-FM,WIL), complications of dementia.-age 83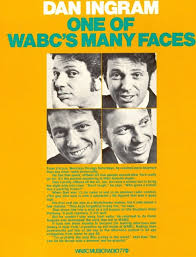 27 Steve Soto-American punk musician (Adolescents,Agent Orange,Legal Weapon).-age 54
28 Denis Akiyama-Canadian actor (Pixels,X-Men,Johnny Mnemonic),cancer.-age 66
29 Chantal Garrigues-French actress (Soda).-age 73
30 Nino Assirelli-Italian racing cyclist.-age 92
JULY
02 Alan Longmuir-Scottish bass guitarist (Bay City Rollers).-age 70
03 Richard Swift-American singer-songwriter,producer and musician (The Shins,The Black Keys,Starflyer 59),complications from hepatitis.-age 41
04 Carmen Campagne-Canadian singer and children's entertainer,Juno winner (1989),cancer.-age 58
05 Ed Schultz-American broadcaster (The Ed Show,The Ed Schultz Show,News with Ed Schultz) and political commentator.-age 64
05 Jim Malloy-American recording engineer (Elvis Presley,Johnny Cash,Henry Mancini), Grammy winner (1964).-age 87
06 Vince Martin-American folk singer ("Cindy, Oh Cindy"),pulmonary fibrosis.-age 81
08 Tab Hunter-American actor (Damn Yankees,Grease 2) and singer ("Young Love"),blood clot.-age 86
08 Barry Mills-American white supremacist and criminal,leader of the Aryan Brotherhood.-age 70
31 Daryl Robertson-American baseball player (Chicago Cubs)..-age 82
AUGUST
02 Viktor Tyumenev-Russian ice hockey player,Olympic champion (1984).-age 61
03 John Schella-Canadian ice hockey player (Vancouver Canucks,Houston Aeros).-age 71
04 Myron White-American baseball player (Los Angeles Dodgers).-age 61
08 Ronald Crawford-Australian Olympic racewalker (1956,1960,1964).-age 82
11 Manch Wheeler-American football player (Buffalo Bills).-age 79
13 Salvatore Cantalupo-Italian actor (Gomorrah).-age 59
14 Randy Rampage-Canadian thrash metal singer and bassist (D.O.A.,Annihilator,Stress Factor 9), heart attack.-age 58
16 Aretha Franklin-American Hall of Fame singer ("Respect"),pianist and songwriter,18-time Grammy winner,pancreatic cancer.-age 76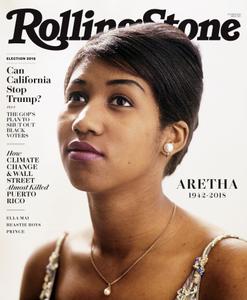 18 Kofi Annan-Ghanaian diplomat,Secretary-General of the United Nations (1997-2006),Nobel Prize laureate (2001).-age 80
20 Eddie Willis-American studio guitarist (The Funk Brothers),complications from poliomyelitis.-age 82
23 Ron Hunt-English footballer (Queens Park Rangers).-age 72
25 John McCain-American politician and Navy officer,member of the U.S. Senate (since 1987) and House of Representatives (1983-1987), glioblastoma.-age 81
25 Lindsay Kemp-English dancer, choreographer (Ziggy Stardust) and actor (The Wicker Man,Valentino).-age 80
26 Neil Simon-American playwright (Biloxi Blues,The Odd Couple) and screenwriter (The Goodbye Girl),Tony winner (1965,1985,1991),complications from pneumonia.-age 91
SEPTEMBER
02 Conway Savage-Australian rock keyboardist (Nick Cave and the Bad Seeds),brain tumour.-age 58
06 Burt Reynolds-American actor (Smokey and the Bandit,Boogie Nights,Deliverance),Emmy winner (1991),heart attack.-age 82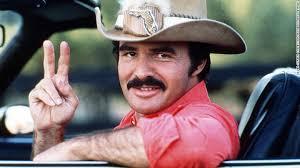 13 Kyle Stone-American pornographic film actor and comedian.-age 54
15 Scotty Bloch-American actress (Kate & Allie, The Lunch Date).-age 93
22 Al Matthews-American actor (Aliens, The Fifth Element, The American Way).-Age 75
24 Tommy McDonald-American football player (Philadelphia Eagles).-age 84
25 Danny Lewicki-Canadian ice hockey player (Toronto Maple Leafs).-age 87
27 Marty Balin-American Hall of Fame rock singer and musician (Jefferson Airplane,Jefferson Starship).-age 76
30 Maurice Barrette-Canadian ice hockey player.-age 62
OCTOBER
05 Ed Kenney-American singer and actor (Flower Drum Song).-age 85
17 Valters Fridenbergs-Latvian singer (Valters and Kaza),contestant in Eurovision Song Contest 2005,cancer.-age 30
23 James Karen-American actor (Poltergeist The Return of the Living Dead,Nixon),cardiorespiratory arrest.-age 94
24 Tony Joe White-American singer-songwriter ("Polk Salad Annie","Rainy Night in Georgia"),heart attack.-age 75
NOVEMBER
01 Ken Swofford-American actor (Fame,Ellery Queen,The Andromeda Strain).-age 85
02 Josh Fauver-American rock bassist (Deerhunter).-age 39
08 Wallace Triplett-American football player (Detroit Lions,Chicago Cardinals),first African-American draftee to play in the NFL.-age 92
11 Douglas Rain-Canadian actor (2001:A Space Odyssey).-age 90
12 Stan Lee-American comic book writer and publisher (Marvel Comics), heart and respiratory failure.-age 95
13 Katherine MacGregor-American actress (Little House on the Prairie).-age 93
14 George Yardley-Scottish footballer (East Fife,Tranmere Rovers).-age 76
15 Roy Clark-American Hall of Fame country singer and television host (Hee Haw),complications from pneumonia.-age 85
16 George A. Cooper-British actor (Tom Jones, Coronation Street,Grange Hill).-age 93
18 Eddie Reeves-American songwriter ("All I Ever Need Is You") and record label executive (Warner Bros. Records), stroke.-age 79
18 Peter Simon-American photographer (Grateful Dead),cardiac arrest.-age 71
18 Jennie Stoller-British actress (The Good Father,Sapphire & Steel,King Ralph),cancer.-age 72
21 Michele Carey-American actress (El Dorado,Live a Little,Love a Little).-age 75
26 Gavin Ford-British radio host (Radio One),strangled.-age 53
27 Johnny Maddox-American pianist (Crazy Otto) and historian.-age 91
28 Alixe Gordin-American casting director (Klute,Scarface,Prizzi's Honor).-age 96
30 George H. W. Bush-American politician, President (1989-1993), Vice President (1981-1989).-age 94
DECEMBER
01 Ken Berry-American actor (F Troop,Mayberry R.F.D.,Mama's Family).-age 85
03 Philip Bosco-American actor (Lend Me a Tenor,Working Girl,My Best Friend's Wedding),Tony winner (1989),complications from dementia.-age 88
04 Joseph Christopher Garcia-American convicted murderer and prison escapee (Texas Seven),execution by lethal injection.-age 73
06 Jose Castillo-Venezuelan professional baseball player (Pittsburgh Pirates,San Francisco Giants),traffic collision.-age 37
07 The Mascara Snake-American artist and musician (Captain Beefheart and his Magic Band),traffic collision.-age 70
08 Rod Jones-American football player (Kansas City Chiefs),suicide by gunshot.-age 54
09 Rodney Kageyama-American actor (Teen Wolf,Pretty Woman,Showdown in Little Tokyo)-age 77
10 Fred Wieland-Australian guitarist (The Strangers,The Mixtures),lung cancer.[43] (death announced on this date)-age 75
13 Nancy Wilson-American jazz singer ("You Don't Know) How Glad I Am"), Grammy winner (1965,2005,2007).-age 81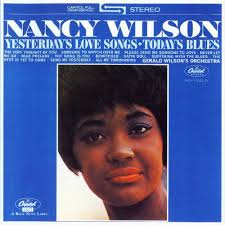 17 Penny Marshall,actress (Laverne & Shirley) and director (Big,A League of Their Own),complications from diabetes.-age 75
SPORTS
2018 INTERNATIONAL OLYMPICS
The 2018 Winter Olympics,officially known as the XXIII Olympic Winter Games and commonly known as PyeongChang 2018,was an international winter multi-sport event that was held between 9 and 25 February 2018 in Pyeongchang County,Gangwon Province,South Korea,with the opening rounds for certain events held on February 8,2018,the eve of the opening ceremony.
Pyeongchang was elected as the host city in July 2011,during the 123rd IOC Session in Durban,South Africa.This was the first time that South Korea had hosted the Winter Olympics and the second Olympics held in the country overall,after the 1988 Summer Olympics in Seoul.It was the third time that an East Asian country had hosted the Winter Games,after Sapporo (1972) and Nagano (1998),both in Japan.It was also the first of three consecutive Olympics to be held in East Asia,the other two being the 2020 Summer Olympics in Tokyo and the 2022 Winter Olympics in Beijing.
The Games featured 102 events over fifteen disciplines in seven sports, with the addition of "big air" snowboarding, mass start speed skating, mixed doubles curling, and mixed team alpine skiing to the Winter Olympic programme.2,914 athletes from 92 NOCs competed,including the debuts of Ecuador,Eritrea,Kosovo,Malaysia,Nigeria and Singapore.After a state-sponsored doping program was exposed following the 2014 Winter Olympics,the Russian Olympic Committee was suspended,and selected athletes were allowed to compete neutrally under the IOC designation of "Olympic Athletes from Russia". Despite tense relations,North Korea agreed to participate in the Games,enter with South Korea during the opening ceremony as a unified Korea and field a unified team in women's ice hockey.
Norway led the total medal tally with 39,followed by Germany's 31 and Canada's 29. Germany and Norway were tied for the most gold medals won; both won fourteen golds.Host nation South Korea won seventeen medals,their highest medal haul at a Winter Olympics, five of which were gold.
2018 FIFA WORLD CUP
The 2018 FIFA World Cup was the 21st FIFA World Cup,an international football tournament contested by the men's national teams of the member associations of FIFA once every four years.It took place in Russia from June 14 to July 15,2018.It was the first World Cup to be held in Eastern Europe,and the 11th time that it had been held in Europe.At an estimated cost of over $14.2 billion,it was the most expensive World Cup.It was also the first World Cup to use the video assistant referee (VAR) system.
The finals involved 32 teams,of which 31 came through qualifying competitions,while the host nation qualified automatically.Of the 32 teams,20 had also appeared in the previous tournament in 2014,while both Iceland and Panama made their first appearances at a FIFA World Cup.A total of 64 matches were played in 12 venues across 11 cities.
The final took place on July 15 at the Luzhniki Stadium in Moscow,between France and Croatia.France won the match 4-2 to claim their second World Cup title,marking the fourth consecutive title won by a European team.
SUPER BOWL LII
Super Bowl LII was an American football game played to determine the champion of the National Football League (NFL) for the 2017 season.The National Football Conference (NFC) champion Philadelphia Eagles defeated the American Football Conference (AFC) and defending Super Bowl LI champion New England Patriots,41-33,to win their first Super Bowl and their first NFL title since 1960.The game was played on February 4,2018, at U.S. Bank Stadium in Minneapolis,Minnesota.This was the second time that a Super Bowl was played in Minneapolis,the northernmost city to ever host the event,after Super Bowl XXVI at the Metrodome during the 1991 season,and the sixth Super Bowl held in a cold-weather city.
New England finished the regular season with an AFC-best 13-3 record,then extended their record Super Bowl appearances to ten,their third in four years,and their eighth under the leadership of head coach Bill Belichick and quarterback Tom Brady. Philadelphia also finished the regular season with an NFC-best 13-3 record but entered the playoffs as underdogs after starting quarterback Carson Wentz suffered a season-ending injury late in the regular season and was replaced by backup quarterback Nick Foles.Still,the Eagles advanced to their third Super Bowl appearance,having previously lost to the Oakland Raiders in Super Bowl XV and to the Patriots in Super Bowl XXXIX.
Several records were set during Super Bowl LII,including most yards gained in an NFL game by both teams combined (1,151),the fewest punts from both teams in a Super Bowl (one) and the most points scored by a Super Bowl losing team.The game was settled after the Eagles converted a fumble recovery deep within Patriots territory to a field goal with 1:05 remaining to extend their lead to eight points and Brady's Hail Mary pass fell incomplete as time expired.Foles completed 28 of 43 pass attempts for 373 yards and three touchdowns with one interception,caught a one-yard touchdown pass and was named Super Bowl MVP.Foles' touchdown catch later became known as The Philly Special and joined NFL lore.
The broadcast of the game on NBC had the smallest Super Bowl audience in nine years,with an average of 103.4 million viewers.Average TV viewership for the halftime show,headlined by Justin Timberlake,was 106.6 million American television viewers,9 percent less than the previous year.
2018 WORLD SERIES
The 2018 World Series was the championship series of Major League Baseball's 2018 season.The 114th edition of the World Series was played between the American League (AL) champion Boston Red Sox and the National League (NL) champion Los Angeles Dodgers.The Series was televised in the United States on Fox.This was the second World Series match-up between the two franchises,after the Red Sox defeated the Brooklyn Robins (later known as the Dodgers) in five games in 1916.The Red Sox beat the Dodgers in five games to win their fourth World Series title in 15 years dating back to 2004, and their ninth in franchise history.Steve Pearce won the World Series Most Valuable Player Award, while Alex Cora became the fifth first-season manager and first manager from Puerto Rico,to win the World Series.The Series was notable for its third game which went for 18 innings,a World Series record.
Additionally,the Red Sox became the first team to win two World Series exactly one century apart,as they had defeated the Chicago Cubs in 1918,while the Dodgers were the first team since the 2011 Texas Rangers,and the first NL team since the 1992 Atlanta Braves,to lose consecutive Fall Classics.
2018 NBA FINALS
The 2018 NBA Finals was the championship series of the National Basketball
Association (NBA)'s 2017-18 season and conclusion of the season's playoffs.In this
best-of-seven playoff,the defending NBA champion and Western Conference
champion Golden State Warriors swept the Eastern Conference champion
Cleveland Cavaliers
4 games to 0.This Finals was the first time in any of
North America's four major professional sports leagues that the same two
teams met for the championship four
years in a row.This was also the first
time that a team was swept in the NBA Finals since 2007,in which the
Cavaliers were also the losing team.LeBron James,in his
eighth consecutive NBA Finals appearance,suffered the second Finals sweeps
of his career,having also played in the 2007 NBA Finals.Kevin Durant was
named NBA Finals
MVP for the second straight year.

The Warriors had home-court advantage in the series since they had a better
regular season record of 58-24,ompared to the Cavaliers 50-32. Entering the Finals
matchup,the Warriors were also noted by various sports media outlets as one of the
biggest NBA Finals favorites in recent history.This was the first time since 2012
that the Finals did not feature either of the top seeds in each conference.The 2018
Finals began on May 31 and ended on June 8.The series was sponsored by the Internet
television service YouTube TV and officially known as the 2018 NBA Finals

presented by YouTube TV.

The match,was won by West Coast who defeated Collingwood by five points

(79-74),marking the club's fourth premiership and first since
2006
.
West Coast's
Luke Shuey
won the
Norm Smith Medal
as the player judged best on ground.
2018 AUSTRALIAN AFL GRAND FINAL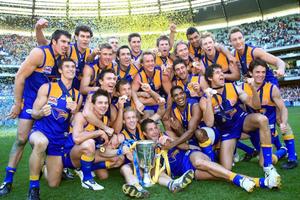 The 2018 AFL Grand Final was an Australian rules football game contested between the West Coast Eagles and the Collingwood Football Club at the Melbourne Cricket Ground on September 29,2018.It was the 122nd annual grand final of the Australian Football League (formerly Victorian Football League),staged to determine the premiers for the 2018 AFL season.
   Beaten by Greater Western Sydney in the
previous season's semi-final,West Coast recorded its best season in three
years,with a 16-6 

win-loss record,to finish second on the ladder.The club
hosted third-placed Collingwood in the second qualifying final at Perth Stadium,
and overcame the Magpies by sixteen points to advance to the preliminary
final.There,the Eagles hosted Melbourne and won comfortably by 66 points to
advance to the grand final for the first time since losing the 2015 AFL Grand
Final to Hawthorn.
Collingwood had missed the finals for the past four years and finished the 2017 season in thirteenth position,so was not considered a credible premiership chance at the start of the year.Despite this, the club produced its best season since 2012,finishing third.Collingwood faced West Coast in Perth in its qualifying final,and led at various stages of the match before being overrun in the last quarter to lose by sixteen points.They rebounded to defeat Greater Western Sydney in the second semi-final by ten points,then had an upset win against reigning premiers Richmond by 39 points in the preliminary final to advance to the grand final.
The grand final attendance of 100,022 people was the largest crowd since the 1986 Grand Final.
As pre-match entertainment,the Black Eyed Peas performed a number of their hit singles,including "Where Is the Love?", "Let's Get It Started", "I Gotta Feeling" and their new single "Big Love". Filipino singer Jessica Reynoso filled in on vocals for former band member Fergie.Their set was followed by singer Jimmy Barnes,who started his performance with a rendition of "Flame Trees".Mike Brady performed "Up There Cazaly",his own traditional grand final song ,while the national anthem was sung by Mahalia Barnes,Jimmy Barnes' daughter.
The match,was won by West Coast who defeated Collingwood by five points (79-74), marking the club's fourth premiership and first since 2006.West Coast's Luke Shuey won the Norm Smith Medal as the player judged best on ground.
ENTERTAINMENT
#1 SONG FOR 2018 IN THE USA-GOD'S PLAN by DRAKE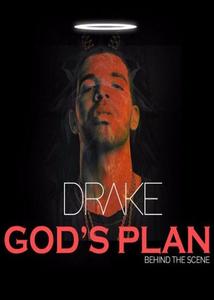 "God's Plan" is a song recorded by Canadian musician "Drake",released on January 19,2018,through OVO Sound,Young Money and Cash Money.Written by Aubrey Graham, Ronald LaTour,Daveon Jackson,Matthew Samuels and Noah Shebib and produced by Cardo,Yung Exclusive and Boi-1da,the track acts as a single from his second EP,Scary Hours (2018),and the lead single from his fifth studio album,Scorpion (2018).Musically,it has been described as Pop,pop-rap and trap,whose lyrics talk about fame and his fate.
Music critics were moderate towards "God's Plan",calling it a typical "Drake" song.An accompanying music video for the song was directed by Karena Evans and uploaded onto Drake's official Youtube channel on February 16,2018.In the video "Drake" is giving away nearly one million US-Dollars to people and institutions in Florida.It received five nominations at the 2018 MTV Video Music Awards, including for Video of the Year.Commercially the song became the 29th song in history to debut at number one on the US Billboard Hot 100,making it Drake's fourth chart-topper in that country and second as a lead artist.The single topped the charts in fourteen countries,including the UK and Canada and reached the top ten in nine others.The song broke first-day streaming records on both Apple Music and Spotify.
"God's Plan" was ranked at #1 for the entire year of 2018 on Billboard's Hot 100 Year-End Singles Chart.
#1 SONG FOR 2018 IN CANADA AND NEW ZEALAND-PERFECT by ED SHEERAN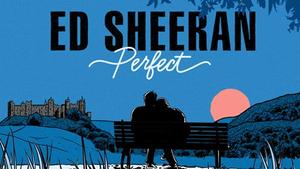 "Perfect" is a song by English singer-songwriter Ed Sheeran from his third studio album,Divide (2017).After the album's release it charted at number four on the UK Singles Chart.On August 21,2017,Billboard announced that "Perfect" would be the fourth single from the album.The song was serviced to pop radio on September 26,2017,as the third single from the album in the United States (fourth overall).The song eventually reached number one on the UK Singles Chart and the US Billboard Hot 100 in December 2017."Perfect" became the UK Christmas number-one song for 2017 and also peaked at number one in sixteen other countries,including Australia,Canada,Ireland and New Zealand.
In March 2017,Sheeran broke the record set by Frankie Laine in 1953,occupying all of the top five positions in the United Kingdom and placing nine songs in the top ten of the UK Singles Chart.Also,every single one of the sixteen tracks from his new album Divide entered the top twenty. "Perfect" debuted at number four, selling 62,599 copies.After Sheeran's performance of "Perfect" on The X Factor on 26 November 2017, the song reached a new peak in the UK,advancing to number three and selling 32,507 units.The Beyonce version, released on 1 December 2017,drove consumption of the track to 89,359 sales (including 45,460 from sales-equivalent streams) as it became Sheeran's second number-one song from "Divide",following "Shape of You" -and his fourth number-one single in total.With UK sales of 1,048,313, "Perfect" became Sheeran's tenth million-selling single.It was the Christmas number-one song for 2017,and held the summit for six consecutive weeks before being displaced by Eminem's "River", which features Sheeran as a guest artist.
In the United States, ten songs from "Divide" debuted on the Billboard Hot 100 in March 2017,including "Perfect" at number thirty-seven.In October,the song ascended to number eighteen and became the third song from "Divide" to reach the country's top twenty.It also lifted 4-3 on Digital Songs (50,000 downloads sold),34-30 on Radio Songs (45 million) and 46-35 on Streaming Songs (11.5 million).On October 30,2017, "Perfect" soared to the top ten on the Billboard Hot 100.The ballad gained in all metrics,holding at number three on Digital Song Sales (53,000, up 7 percent) and climbing 30-22 on Radio Songs (53 million, up 16 percent) and 35-27 on Streaming Songs (13.1 million, up 14 percent).[20] On 20 November 2017, "Perfect" pushed to a new Billboard Hot 100 high (8-7) and reached the Radio Songs top ten (17-10; 73 million, up 16 percent).Sheeran scored his seventh Radio Songs top ten and the third from his album "Divide", following "Shape of You" and "Castle on the Hill". The next week,"Perfect" hit top five on the Billboard Hot 100, becoming the second-highest-charting hit from his album "Divide",following "Shape of You".[22] "Perfect" became Sheeran's third top five hit overall; his first,"Thinking Out Loud", rose to number two in 2015.[22] "Perfect" remained at number three on Digital Song Sales (60,000, down 6 percent) and powered 10-6 on Radio Songs (80 million, up 10 percent) and 38-15 on Streaming Songs (18.9 million, up 61 percent).
On December 4,2017, "Perfect" pushed to a new number three Billboard Hot 100 high, and became Sheeran's third number one on Digital Song Sales (69,000,down 1 percent).He previously topped the chart for a week in 2015 with "Thinking Out Loud" and for ten weeks earlier in 2017 with "Shape of You".[23] "Perfect" reached number one on Digital Song Sales, aided by the first few hours of tracking for its duet version, released before the end of the sales (and streaming) tracking week at 7 p.m. ET on November 30. For the full week, the Beyonce version accounted for 18 percent of the song's sales.On December 11,2017, ]after a full tracking week,the single topped the Billboard Hot 100 chart, becoming Sheeran's second number-one song in the United States and Beyonce's sixth as a solo act. "Perfect" remained at number-one on the Digital Songs chart with sales of 181,000 copies (up 202 percent).The duet version accounted for 63 percent of the song's total sales for the week."Perfect" also rose 11-3 on the Streaming Songs chart with 34.9 million US streams, up 87 percent, while on Radio Songs, it pushed 4-3 (102 million in audience,up 14 percent).The duet topped the Hot 100 for five weeks.The original version of the song would later take over at the top on the week ending 20 January 2018.After six total weeks at number one,the song was dethroned by "Havana" by Camila Cabello featuring Young Thug."Perfect" was the seventh best-selling song of 2017 and the #2 song for the entire year of 2019 in the USA on Billboard Magazine,with 1,340,000 copies sold in 2017.
The original version peaked at number one in Austria,Belgium,France, Luxembourg,Malaysia,Netherlands,Philippines,Poland,Scotland,Slovakia,

Slovenia and Switzerland.
After the
Beyonce duet release,"Perfect" also reached number one in

Australia,Denmark,Germany,Ireland,Italy,New Zealand,Sweden,the United Kingdom
and the United States.The song is Sheeran's fourth to reach number one in
Australia and held the country's top spot for eight consecutive weeks before
"God's Plan" by Drake displaced it.It went to number one as well in
Canada,becoming Sheeran's second number one there and Beyonce's first.
Another duet with Italian singer Andrea Bocelli, titled "Perfect Symphony", was released on December 15,2017.The song and its official music video received three nominations at the 2018 MTV Video Music Awards.
"Perfect" spent six (6) weeks at #1 in Canada (Billboard Canadian Hot 100) and eight (8) weeks at #1 in New Zealand.In both countries it was the biggest song of the year for 2018.
#1 SONG FOR 2018 IN AUSTRALIA-YOUNGBLOOD by 5 SECONDS OF SUMMER
Youngblood" is a song recorded by Australian rock band 5 Seconds of Summer.It was written by Calum Hood,Ali Tamposi,Andrew Watt,Ashton Irwin and Luke Hemmings,with production handled by Watt and Louis Bell.The song was released via Capitol Records on April 12,2018,as the second single from their third studio album of the same name.
"Youngblood" reached number one in Australia in May 2018, becoming the band's second number-one single in their home country,spending eight consecutive weeks at the top.It also reached number one in New Zealand,spending four consecutive weeks at the top.It reached the top ten in eleven countries,including number three in Canada,number four in the United Kingdom and number seven in the United States,becoming their first top 10 single in Canada and the United States.On the radio charts,it became their first number one on United States' Mainstream Top 40 chart and Adult Pop Songs chart,topping the charts for five consecutive weeks and two consecutive weeks,respectively and Canada's Contemporary Hit Radio/Top 40 Airplay chart,topping the chart for four consecutive weeks.
"Youngblood" has been certified multi-platinum in Australia and New Zealand, certified platinum in the United States,the United Kingdom and Canada and certified gold in Italy,Belgium and Brazil.At the ARIA Music Awards of 2018, "Youngblood" won the ARIA Award for Song of the Year.
#1 SONG FOR 2018 IN THE UNITED KINGDOM-SHOTGUN by GEORGE EZRA
"Shotgun" is a song by English singer-songwriter George Ezra.The song was written by Ezra and Joel Pott and produced by Cam Blackwood.It was released as a digital download on May 18,2018,as the third single from Ezra's second studio album "Staying At Tamara's".
The song reached number one for four weeks on the UK Singles Chart,becoming Ezra's first number-one song in the United Kingdom and was certified platinum in the country. In addition,it topped the ARIA Singles Chart for five weeks in Australia, also becoming Ezra's first number-one there,as well as the Irish Singles chart,New Zealand Singles Chart and the Scottish Singles Chart.The song was used in RT''s advertising campaign for the 2018 Galway Races.In New Zealand the song spent 4 weeks at #1. It was the biggest song for the entire year of 2018 in the UK.
PLAYMATE OF THE YEAR OR "SMASH HIT OF THE YEAR"
From my first year-end review in 2014 to 2015 I always posted "Playboy's Playmate Of The Year".Then in 2016 Playboy discontinued publishing nude photos of the playmates.Further in 2017 Hugh Hefner died.So I picked up the slack.In 2010 I started posting playmates on my website.In 2011 I had what you call my first "SMASH HIT OF THE YEAR" (same thing as "PLAYMATE OF THE YEAR"). The "SMASH HIT OF THE YEAR" was chosen in response to votes casted by viewers.So in 2016 when Playboy discontinued nude playmates I posted my "SMASH HIT OF THE YEAR" in my year-end review.So I am doing the same in 2018. You can view the 2018 "SMASH HIT OF THE YEAR" on my website at:http://hitsofalldecades.com/chart_hits/index.php?option=com_content&task=view&id=4477&Itemid=57
Above is a photo of STEFANIE KNIGHT the 2018 "SMASH HIT OF THE YEAR", If you go to the above URL you can find more revealing photos of her.Below you will also find her biographical data reproduced from my website.
STEFANIE KNIGHT
Birth Name: Stefanie Knight

Born: December 17,1994,Thunder Bay,Ontario,Canada

Ethnicity: Caucasian

Skin Color: White

Height: 5' 3"

Weight:Approximately 55-56 Kg.

Meaurements:32DD-23-32

Hair color:Black

Hair Length:Long

Eye Color:Green

Dress: 1

Shoe: 7.5

Tattoos: None

Piercings:None

Twitter:twitter.com/stefanieknightx
Stephanie is a Canadian model and adult film star who rose to fame for her

appearances in Playboy.Stefanie Knight is a Canadian Playboy model. She is

the Playboy Cyber Girl of the Month for March 2014.She was also Playmate of
the Month for the Venezuelan Issue of Playboy in December 2016.She is notable
for her large,hanging labia minor

a.
CLOSING
So much for the world in 2018.As for my world I started 2018 living in Chianyai,Thailand and I will end 2018 living in Nakhon Sri Thammarat province in Thailand.
I spent every day of 2017 except for 2 on Thailand soil and the other two days
sorting out my visa in Malaysia.I am now retired and still live in a house all
alone.All of my 20,000 Cds,records and tapes,Plus my huge Playboy collection are
with me in my house.I will probably (unless I am kidnapped by the CIA) be in
Thailand for almost all of 2019.I now have not been on US soil in over (9) years
(I left the USA on September 15th, 2009).If things go as I would like them to
there is a good chance I may never see the USA again.I don't need the USA's war
machine,I don't need their ghetto scenes.

In 2019 I increased the size of my website.I now have approximately 4900 files
on my website (see:www.hitsofalldecades.com).In October of 2018 I began compiling
the top 6500 of all time (1954-2019) which will be unveiled in July of 2019.My
projections are to have 5000 files on my website by January 15,2020.It may take me about five years for me to get my website up to snuff.So it may be at least nine years before I begin writing that book about my life which I have been wanting to do for the past 10 years.Also in about five years I am hoping to have my own internet show.We will see.I take life one day at a time.I am hoping for this book and my internet show will be my bonanza.As Mick Jagger of the Rolling Stones said back in 1967 "Lose your dreams and you will lose your mind".

It was a pleasure to have all of you being part of my life this year.Anyway,that is my year-end review for 2018.I hope you all had a cool year too and that you have lots of dreams to aim for in the next 12 months or so.

Remember every second of your life you spend thinking of bad and negative thoughts it is one second less your are spending thinking of good and positive thoughts and you don't get that one second back.So even if life does not deal you the cards you wanted just remember to keep on dancing and enjoying the party.Have a fantastic Xmas or whatever holiday you celebrate and I will e-mail you all individually when the time frame is not so narrow!! It's been great to have you all in my year and my life!!!!
Joyeaux Noel,Feliz Navidad,Frohliches Weihnachten,Merry Xmas et la prochain