RADIO AND RECORDS (USA) MAGAZINE'S (DUCKHEAD/popradiotop20.com) TOP POP SINGLES OF 1981*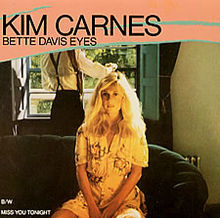 Pos.-Title-Artist-Label-Peak Month 
  1 BETTE DAVIS EYES-KIM CARNES-EMI AMERICA-JUNE
  2 WAITING FOR A GIRL LIKE YOU-FOREIGNER-November
  3 I CAN'T GO FOR THAT(NO CAN DO)-DARYL HALL & JOHN OATES-December
  4 ENDLESS LOVE-DIANA ROSS & LIONEL RICHIE-August
  5 THE ONE THAT YOU LOVE-AIR SUPPLY-July
  6 WHO'S CRYING NOW-JOURNEY-September
  7 ARTHUR'S THEME (BEST THAT YOU CAN DO)-CHRISTOPHER CROSS-September
  8 KEEP ON LOVING YOU-REO Speedwagon-February
  9 THE BEST OF TIMES-Styx-March
 10 WOMAN-John Lennon-February
 11 Private Eyes-Hall & Oates-October
 12 Theme From "Greatest American Hero"-Joey Scarbury-July
 13 Slow Hand-Pointer Sisters-July
 14 The Tide Is High-Blondie-January
 15 Just The Two Of Us-Grover Washington Jr.-April
 16 Being With You-Smokey Robinson-May
 17 Physical-Olivia Newton-John-November
 18 I Don't Need You-Kenny Rogers-July
 19 All Those Years Ago-George Harrison-June
 20 Kiss On My List-Daryl Hall & John Oates-March
 21 Morning Train (Nine To Five)-Sheena Easton-April
 22 Living Inside Myself-Gino Vannelli-May
 23 Hard To Say-Dan Fogelberg-October
 24 9 To 5-Dolly Parton-February
 25 Take It On The Run-REO Speedwagon-May
 26 Leather And Lace-Stevie Nicks-December
 27 While You See A Chance-Steve Winwood-April
 28 Hey Nineteen-Steely Dan-January
 29 Watching The Wheels-John Lennon-May
 30 Lady (You Bring Me Up)-Commodores-August
 31 Here I Am (Just When I Thought I Was Over You)-Air Supply-November
 32 The Night Owls-Little River Band-October 
 33 Hearts-Marty Balin-July
 34 Hello Again-Neil Diamond-March
 35 Stop Draggin' My Heart Around-Stevie Nicks & Tom Petty-September
 36 Step By Step-Eddie Rabbitt-September
 37 Stars On 45-Stars On 45-June
 38 For Your Eyes Only-Sheena Easton-October
 39 Young Turks-Rod Stewart-December
 40 Every Woman In The World-Air Supply-January
 41 Her Town Too-James Taylor & J.D. Souther-April
 42 Every Little Thing She Does Is Magic-Police-November
 43 Oh No-Commodores-November
 44 Celebration-Kool & The Gang-January
 45 You Make My Dreams-Daryl Hall & John Oates-June
 46 Passion-Rod Stewart-January
 47 Queen Of Hearts-Juice Newton-August
 48 I Love A Rainy Night-Eddie Rabbitt-January
 49 Angel Of The Morning-Juice Newton-April
 50 A Woman Needs Love-Ray Parker Jr. & Raydio-May
 51 (There's) No Gettin' Over Me-Ronnie Milsap-August
 52 Rapture-Blondie-February
 53 Crying-Don McLean-February
 54 The Voice-Moody Blues-September
 55 I Love You-Climax Blues Band-May
 56 Cool Love-Pablo Cruise-August
 57 Tryin' To Live My Life Without You-Bob Seger & The Silver Bullet Band-November
 58 America-Neil Diamond-June
 59 Start Me Up-Rolling Stones-September
 60 Why Do Fools Fall In Love-Diana Ross-December
 61 Hold On Tight-Electric Light Orchestra-September
 62 Urgent-Foreigner-August
 63 A Little In Love-Cliff Richard-February
 64 What Kind Of Fool-Barbra Streisand & Barry Gibb-March
 65 Time-Alan Parsons Project-July
 66 Jessie's Girl-Rick Springfield-June
 67 This Little Girl-Gary U.S. Bonds-June
 68 Don't Stop Believin'-Journey-December
 69 Tell It Like It Is-Heart-January
 70 Boy From New York City-Manhattan Transfer-July
 71 Sukiyaki-A Taste Of Honey-May
 72 Gemini Dream-Moody Blues-July
 73 Too Much Time On My Hands-Styx-May
 74 We're In This Love Together-Al Jarreau-October
 75 I've Done Everything For You-Rick Springfield-October
 76 Yesterday's Songs-Neil Diamond-December
 77 Same Old Lang Syne-Dan Fogelberg-January
 78 Don't Stand So Close To Me-Police-April
 79 Share Your Love With Me-Kenny Rogers-October
 80 Really Wanna Know You-Gary Wright-August
 81 Just Once-Quincy Jones & James Ingram-October
 82 Games People Play-Alan Parsons Project-February
 83 I Can't Stand It-Eric Clapton-April
 84 I Made It Through The Rain-Barry Manilow-January
 85 Sweetheart-Frankie & The Knockouts-May
 86 Giving It Up For Your Love-Delbert McClinton-February
 87 Is It You-Lee Ritenour-June
 88 Miss Sun-Boz Scaggs-January
 89 In The Air Tonight-Phil Collins-July
 90 The Old Songs-Barry Manilow-November
 91 Treat Me Right-Pat Benatar-March
 92 Somebody's Knockin'-Terri Gibbs-April
 93 Winning-Santana-June
 94 Elvira-Oak Ridge Boys-July
 95 I Missed Again-Phil Collins-May
 96 Hearts On Fire-Randy Meisner-March
 97 Touch Me When We're Dancing-Carpenters-July
 98 When She Was My Girl-Four Tops-October
 99 I Could Never Miss You (More Than I Do)-Lulu-September
100 De,Do,Do,Do,De,Da,Da,Da-Police-January
101 Living In A Fantasy-Leo Sayer-March
102 Fire And Ice-Pat Benatar-August
103 Modern Girl-Sheena Easton-July
104 The Waiting-Tom Petty & The Heartbreakers-June
105 That Old Song-Ray Parker,Jr.-September
106 Just Between You And Me-April Wine-April
107 Sweet Baby-Stanley Clarke/George Duke-July
108 Let's Groove-Earth,Wind and Fire-December
109 I Ain't Gonna Stand For It-Stevie Wonder-February
110 Time Out Of Mind-Steely Dan-April
111 Say Goodbye To Hollywood-Billy Joel-October
112 What Are We Doin' In Love-Dottie West-May
113 How 'Bout Us-Champaign-June
114 Sausalito Summernight-Diesel-November
115 No Reply At All-Genesis-November
116 My Girl (Gone,Gone,Gone,)-Chilliwack-November
117 You Better You Bet-The Who-April
118 Ain't Even Done With The Night-John Cougar-April
119 In Your Letter-R.E.O. Speedwagon-September
120 Smoky Mountain Rain-Ronnie Milsap-February
121 Say You'll Be Mine-Christopher Cross-May
122A Beach Boys Medley-Beach Boys-August
122B Time Is Time-Andy Gibb-January
124 The Breakup Song (They Don't Write 'Em)-Greg Kihn Band-August
125A Heart Like A Wheel-Steve Miller Band-November
125B Still Right Here In My Heart-Pure Prarie League-June
125C Theme From Hill Street Blues-Mike Post & Larry Carlton-September
128 The Winner Takes It All-Abba-March
129 Seven Bridges-Eagles-January
130 Atlanta Lady-Marty Balin-October
131A Don't Let Him Go-R.E.O. Speedwagon-July
131B Nobody Wins-Elton John-June
131C Our Lips Are Sealed-Go-Gos-December
134 Fade Away-Bruce Springsteen-March

*Here is how Duckhead calculated this chart from Radio and Record charts.

Points
Points for the yearly charts are calculated using inverse points from the weekly charts.
Each week, the # 1 song gets 20 points, the # 2 song gets 19 points, # 3 gets 18, and so on.
The # 20 song gets 1 point.
Each song's points are added up for each week to reach the total.
A song's entire chart run will be used for the yearly chart.
Songs appear on the yearly chart corresponding to the year they peak on the weekly charts.
Tie-Breakers
For songs that tie in points on the yearly charts, the following tie-breakers are used:
1. Most weeks at # 1
2. Most weeks at # 2
3. Most weeks at # 3
4. Most weeks at # 4
5. Etc.
If songs remain tied after all 20 tie-breakers, then they will be listed as tied on the yearly chart.
Tied songs appear in alphabetical order, and are marked by letters, for example: 99A and 99B.