| | | | |
| --- | --- | --- | --- |
| RADIO AND RECORDS (USA) MAGAZINE'S (DUCKHEAD/popradiotop20.com) TOP POP SINGLES OF 1975 | | | |
Written by Barry Kowal
Sep 01, 2017 at 09:11 PM
RADIO AND RECORDS (USA) MAGAZINE'S (DUCKHEAD/popradiotop20.com) TOP POP SINGLES OF 1975*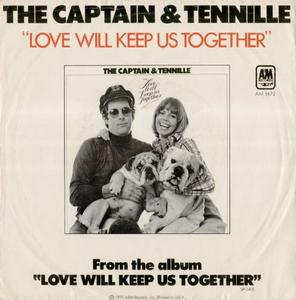 Pos.-Title-Artist-Label-Peak Month 
  1 LOVE WILL KEEP US TOGETHER-CAPTAIN & TENNILLE-JUNE 
  2 PHILADELPHIA FREEDOM-ELTON JOHN-April
  3 HAVE YOU NEVER BEEN MELLOW-OLIVIA NEWTON-JOHN-February
  4 BAD BLOOD-NEIL SEDAKA-October
  5 JIVE TALKIN'-BEE GEES-July
  6 I'M SORRY/CALYPSO-JOHN DENVER-October
  7 I WRITE THE SONGS-BARRY MANILOW-December
  8 ISLAND GIRL-Elton John-October
  9 GET DOWN TONIGHT-K.C. & The Sunshine Band-September
 10 FAME-David Bowie-September
 11 Listen To What The Man Said-Paul McCartney & Wings-July
 12 Black Water-Doobie Brothers-February
 13 Lovin' You-Minnie Riperton-March
 14 Lady Marmalade-LaBelle-March
 15 That's The Way (I Like It)-K.C. & The Sunshine Band -November
 16 Someone Saved My Life Tonight-Elton John-August
 17 Wildfire-Michael Murphy-June
 18 One Of These Nights-Eagles-July
 19 Another Somebody Done Somebody Wrong Song-B.J. Thomas-April
 20 My Eyes Adored You-Frankie Valli-February
 21 Mandy-Barry Manilow-January
 22 The Hustle-Van McCoy-July
 23 Lyin' Eyes-Eagles-October
 24 Best Of My Love-Eagles-February
 25 Pick Up The Pieces-Average White Band-January
 26 Please,Mr.Postman-Carpenters-January
 27 Miracles-Jefferson Starship-October
 28 Sister Golden Hair-America-May
 29 He Don't Love You (Like I Love You)-Tony Orlando & Dawn-May
 30 Fallin' In Love-Hamilton,Joe,Frank & Reynolds-August
 31 Rhinestone Cowboy-Glen Campbell-September
 32 How Long-Ace-May
 33 Games People Play-Spinners-October
 34 The Way That I Want To Touch You-Captain & Tennille-November
 35 Thank God,I'm A Country Boy-John Denver-May
 36 You're No Good-Linda Ronstadt-January
 37 Saturday Night-Bay City Rollers-December
 38 Magic-Pilot-June
 39 Fly Robin Fly-Silver Convention-December
 40 I'm Not In Love-10cc-July
 41 Feelings-Morris Albert-September
 42 Laughter In The Rain-Neil Sedaka-January
 43 Jackie Blue-Ozark Mountain Daredevils-April
 44 Shining Star-Earth,Wind & Fire-May
 45 Chevy Van-Sammy Johns-April
 46 Dance With Me-Orleans-September
 47 When Will I Be Loved-Linda Ronstadt-May
 48 Heat Wave-Linda Ronstadt-November
 49 Fire-Ohio Players-February
 50 Nights On Broadway-Bee Gees-November
 51 At Seventeen-Janis Ian-August
 52 Midnight Blue-Melissa Manchester-August
 53 How Sweet It Is-James Taylor-August
 54 Who Loves You-Four Seasons-October
 55 Lady-Styx-February
 56 You Are So Beautiful-Joe Cocker-March
 57 Please, Mr.Please-Olivia Newton-John-July
 58 Bad Time-Grand Funk Railroad-May
 59 Why Can't We Be Friends-War-August
 60 Only Women Bleed-Alice Cooper-May
 61 The No No Song-Ringo Starr-March
 62 Long Tall Glasses-Leo Sayer-April
 63 Take Me In Your Arms-Doobie Brothers-June
 64 Run Joey Run-David Geddes-September
 65 Could It Be Magic-Barry Manilow-September
 66 Let's Do It Again-Staple Singers-December
 67 Sky High-Jigsaw-November
 68 Ballroom Blitz-Sweet-September
 69 Love Won't Let Me Wait-Major Harris-June
 70 Some Kind Of Wonderful-Grand Funk-February
 71 Emma-Hot Chocolate-March
 72 Only Yesterday-Carpenters-May
 73 Rockin' Chair Song-Gwen McCrae-July
 74 Boogie On Reggae Woman-Stevie Wonder-January
 75 SOS-Abba-October
 76 Low Rider-War-November
 77 Rocky-Austin Roberts-September
 78 Don't Call Us, We'll Call You-Sugarloaf-March
 79 Pinball Wizard-Elton John-May
 80 Killer Queen-Queen-May
 81 Swearin'To God-Frankie Valli-July
 82 Old Days-Chicago-May
 83 I'm Not Lisa-Jessi Colter-June
 84 Ain't No way To Treat A Lady-Helen Reddy-September
 85 Lonely People-America-January
 86 My Little Town-Simon & Garfunkel-November
 87 Poetry Man-Phoebe Snow-March
 88 It's A Miracle-Barry Manilow-April
 89 Express-B.T. Express-March
 90 It Only Takes A Minute-Tavares-October
 91 Dynomite-Tony Camillo's Bazuka-July
 92 Rockford Files-Mike Post-July
 93 Bungle In The Jungle-Jethro Tull-January
 94 Third Rate Romance-Amazing Rhythm Aces-August
 95 Before The Next Teardrop Falls-Freddy Fender-May
 96 Doctor's Orders-Carol Douglas-January
 97 This Will Be-Natalie Cole-November
 98 Lady Blue-Leon Russell-October
 98 Wasted Days And Wasted Nights-Freddy Fender-September
100 The Way We Were/Try To Remember-Gladys Knight & The Pips-July
101 Mr. Jaws-Dickie Goodman-September
102 Roll On Down The Highway-Bachman-Turner Overdrive-February
103 One Man Woman/One Woman Man-Paul Anka/Odia Coates-January
104 Shame,Shame,Shame-Shirley & Company-March
105 Tush-ZZ Top-August
106 Never Can Say Goodbye-Gloria Gaynor-January
107 Morning Side Of The Mountain-Donny & Marie Osmond-January
108 I Don't Like To Sleep Alone-Paul Anka-May
109 Hey You-Bachman Turner Overdrive-June
110 Brazil-Ritchie Family-October
111 Feel Like Makin' Love-Bad Company-September
112 Get Down,Get Down (On The Floor)-Joe Simon-June
113 Once You Get Started-Rufus-April
114 Daisy Jane-America-September
115 Over My Head-Fleetwood Mac-December
116 Walking In Rhythm-Blackbyrds-May
117 18 With A Bullet-Pete Wingfield-November
118 There's Nothing Stronger Than Our Love-Paul Anka & Odia Coates-September
119 Supernatural Thing-Ben E. King-April
120 Get Dancin'-Disco Tex & The Sex-O-Lettes-February
121 I Only Have Eyes For You-Art Garfunkel-November 
122 What Am I Gonna Do With You-Barry White-April
123 The South's Gonna Do It Again-Charlie Daniels Band-February
124A My Boy-Elvis Presley-February
124B The Last Farewell-Roger Whittaker-June
126A How Long-Pointer Sisters-September
126B Venus And Mars/Rock Show-Paul McCartney & Wings-November


*Here is how Duckhead calculated this chart from Radio and Record charts.

Points
Points for the yearly charts are calculated using inverse points from the weekly charts.
Each week, the # 1 song gets 20 points, the # 2 song gets 19 points, # 3 gets 18, and so on.
The # 20 song gets 1 point.
Each song's points are added up for each week to reach the total.
A song's entire chart run will be used for the yearly chart.
Songs appear on the yearly chart corresponding to the year they peak on the weekly charts.
Tie-Breakers
For songs that tie in points on the yearly charts, the following tie-breakers are used:
1. Most weeks at # 1
2. Most weeks at # 2
3. Most weeks at # 3
4. Most weeks at # 4
5. Etc.
If songs remain tied after all 20 tie-breakers, then they will be listed as tied on the yearly chart.
Tied songs appear in alphabetical order, and are marked by letters, for example: 99A and 99B.

Last Updated ( Dec 04, 2019 at 12:48 PM )