SMASH HIT FOR DECEMBER 2016

BABI ROSSI 




Birthdate:February 9,1990 
Birthplace:Sao Paulo,Brazil
Ethnicity:Latina
Nationality:Brazilian
Measurements:35-26-38
Bra/cup size:D
Breasts:Enhanced
Height:5 ft 7 in (1.70 m)
Weight:121 lb (55 kg)
Body type:Slim
Eye color:Brown
Hair:Blonde
Pubic hair:Trimmed

     Babi Rossi (born Barbara Cristina Rossi in
Sao Paulo,February 9,1990) is a Brazilian model and singer,popularly known for
her performance as a panicat for the live TV show Panico na TV.

   Starting her early career as a model,Babi made her entry to the television 
screen as an assistant in stage programming for the popular show Brothers 
Television Network & The Best of Brazil's Record.In 2010, she had a 
breakthrough in her career when she made her way to the comedy program 
"Panico na TV" as a panicat.Panicats are a group of models in tiny bikins 
who dance and sing onstage during the program and often become subjects 
for the show's pranks.Becoming a successful panicat by winning the hearts 
of the male audience,Babi currently holds the record for the panicat having 
the longest term in the show.She had a massive career uplift from the 
show and starred in several advertising campaigns and essays.She also 
became the cover girl of many men's magazines,including Playboy.

   Her career as a panicat was met with many controversies and the most prominent 
one was the head shaving episode.On April 22, 2012 she shaved her head live on 
television.The audience initially thought it was a fake, but realized that it was real 
by the end of the episode.Babi was unaware of the head shaving and really shocked 
by the crew's decision;she tried to argue but it didn't work and then when she was 

crying for help,the crew mercilessly 

did the job.

Television critics,bloggers and newspapers severely criticized the show,stating 
that their prank crossed the line.This holds the record for the most watched 
episode in the show's history and had record audience participation.

 "Bald Babi" became the hot topic of discussion on social networking sites like 
Facebook and Twitter and with that particular episode she earned international 
attention and immense fame.To everyone's surprise,Babi Rossi later responded 
to the controversy rather mildly and said she enjoyed it.

     Babi Rossi was born into a middle-class family.Her mother Margarete 
is a businesswoman.Babi is also a singer and runs a music band.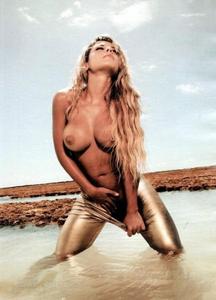 https://nudevista.vip/movie/263098-babi-rossi-making-of-playboy.html
https://www.letmejerk6.com/play/641868/babi-rossi-making-of-playboy-www-panicat-org.html
https://www.xnxx.com/video-al6tx67/babi_rossi_-_making_of_paparazzo_1_-_www.panicat.org