| | | | |
| --- | --- | --- | --- |
| NOVEMBER 18,2016: INSTEAD OF GOING TO THE WHITE HOUSE HILLARY MAY BE GOING TO THE JAIL HOUSE | | | |
Written by Barry Kowal
Nov 18, 2015 at 06:41 PM
NOVEMBER 18,2016: INSTEAD OF GOING TO THE WHITE HOUSE HILLARY MAY BE GOING TO THE JAIL HOUSE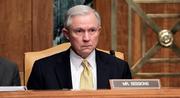 Yesterday November 18 Donald Trump announced a series of controversial appointments:
     1) Senator Jeff Sessions from Alabama for Attorney General.
     2) Representative Mike Pompeo from Kansas has been offered the position of CIA director.
     3) retired Lt.Gen Michael Flynn for White House national security adviser.


 


  Sessions once made the remark "the Ku Klux Klan was OK until I found out they smoked
pot".
   All three appointees are gunho on prosecuting Hillary Clinton. It does not look good for
Hillary.
  Earlier this week Trump picked Steve Bannon as his Chief Strategist. Bannon  espoused anti-Semitic 
and nationalist views as president of the incendiary Breitbart News.
  No surprise most liberals find these appointments appalling. But this may be good.
You have to look at the big picture. Remember history:
"to know where you are going you have to know where you have been".Look no further than the
2004 US Presidential election. George W. Bush defeated John Kerry (although the election
was rigged) and the Republicans had control of both houses of Congress. After the 2004
election Bush appointed right-wing wacko John Bolton to the position of U.S. ambassador to the
UN. He put Samuel Alito on to the US Supreme Court and revelations were made about torture at Abu Ghraib
Prison in Iraq. Then in the 2006 the Democrats regained control of Congress and in 2008
Obama became president.
  So, now if Donald Trump appoints moderate Republicans on to his team he won't create much
animosity. Him and the Republican congress may be at the helm for eight (8) years.
But by appointing such deplorables to his team he will be
stirring the pot.
Then with Hillary going to jail the progressives may merge as the dominant force in the
Democratic Party or third parties will surge. So if Trump keeps appointing despicable
don't be surprised if the Republicans lose control of Congress in 2018 and a Progressive
will be in the White House in 2020.

Last Updated ( Mar 13, 2018 at 11:09 AM )